Hello everybody! I hope you're doing fine.
This will be rather short post, since I got the inspiration few days ago, while I was on my business trip with the overnight in the hotel.
Although it was only 1-day trip, I carried almost everything I usually put in the make up/skincare travel bag for few days.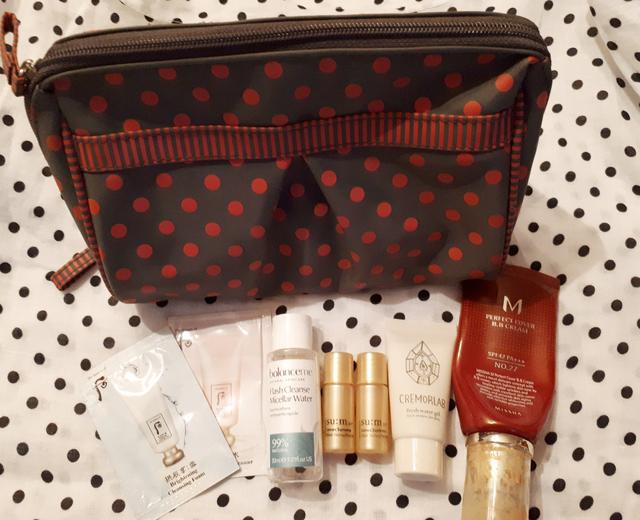 I always have a stash of The History of  Whoo cleansing foam in pouches, since I really love this cleanser which is mild, yet effective.
Balance me micellar water – I use the micellar water as 2nd cleanser on my trips. I always have some samples or travel size micellar waters, so it's not necessarily this brand that finds a place in my travel toiletry bag.
SU:M37 Summa losec skin softener – gel-like toner which sinks fast in the skin, leaving it soft and moisturized.p
Cremorlab T.E.N water gel – This is a decent moisturizer. However, since I use it only on my trips and not regularly, I do not have a firm opinion about it. I can tell that it sinks well in the skin and gives nice moisture. It also works well under my Missha bb cream.
Missha Perfect cover bb cream in shade #27 – This bb cream is the only full size product I carry with me for the short travels like this one. I sometimes have the 20ml package, which is very travel friendly.
What do you carry in your travel bag?
Till next time, stay beautiful and healthy!