Hello everybody!
It's been a while now since I wrote something.
Today I thought of sharing with you my thoughts (😁)  about the sheet masks. One of the first things I bought when I started exploring the Kbeauty was a sheet mask. Of course that buying one of the staple products of Asian cosmetics was the logic choice. I have to admit that the first sheet masks I bought were a complete miss. I bought 2 types of Tonymoly I'm real (tomato and aloe versions) and they did pretty nothing to my skin, except that the one with tomato made my face red (logically). I think I still have 1 or even 2 of these in my sheet mask stash.
Since that time, I bought and tried a lot of sheet masks and I really enjoy exploring and using them. During the summer, I spend lot of time outside under the harsh sun due to my job requirements, so sometimes my skin gets burned and it is irritated and red. And in these situations, my skin is always saved by sheet masks. I talked to lot of girls about the use of sheet masks and I found that lot of them thought the sheet mask were annoying!! Some of them do not like that moist feeling on the skin, some of them do not feel confortable wearing sheet masks and think they are suffocating and some of them do not simply have enough patience to keep the sheet mask for 20-30 minutes.
My feelings are quite opposite!! I simply adore sheet masks and I think that they are one of the best parts of asian beauty routine (together with toners/skins). And the variety of types which is given, offers a solution for any skin concern and for any budget.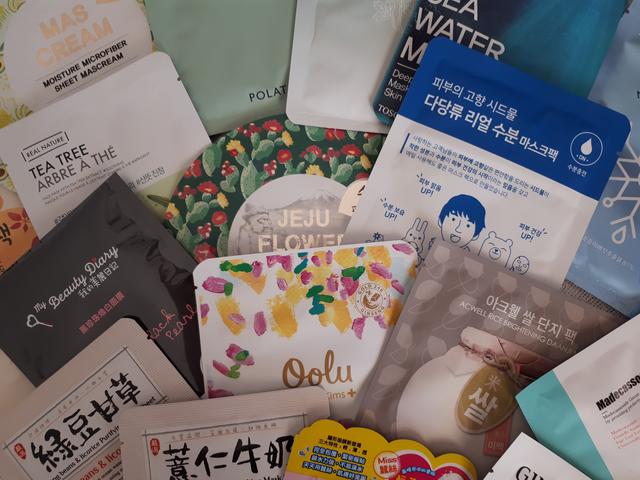 For the moment, I have more than 30 pcs on stock and I'm waiting for at least 10 more to be delivered. In order to know what I have at my disposal, I have a xls spreadsheet with stock and some features (I borrowed this system from Fiddy from Fifty shades of  snail). At the begining, I tried a lot of different sheet mask and at one moment, I realized that I do not remember what I thought of some masks. I made a system for myself with small review of each mask I tried and this with the help of the application Evernote. These reviews are not very detailed like the ones professional beauty bloggers do. They help me remember what I tried and what was my opinion about each sheet mask. This is how my Evernote beauty diary looks like.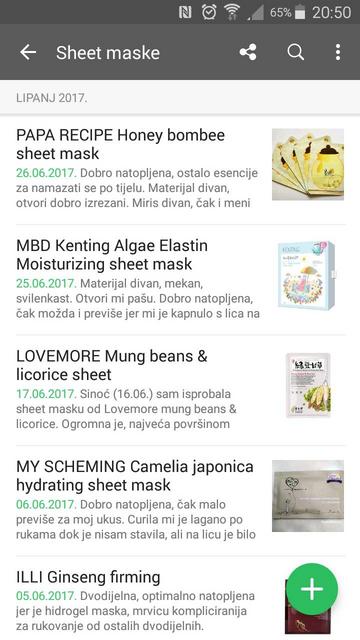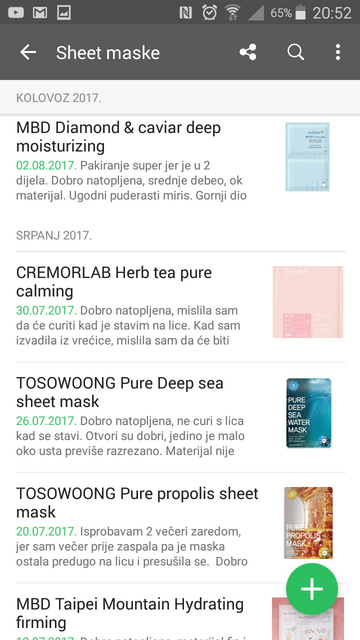 I have few more pages like this, but this is just to show you how it looks like. Now I know for sure which sheet mask I tried, how soaked it was, what kind of material it was made of and my opinion about it.
Now that I shared with you these rather general things about the sheet masks, I will tell you in my next blog post which are my favourites.
Till then, stay beautiful and healthy!