Hello everybody!
And once again I have my share of empties, but not a huge quantity as in my Empties 5 post. That was really a massive overview.
You're probably wondering how I manage to empty so many products. Basically I do not skip my routines ever, I do the double cleansing each night, I apply the niacinamide every morning, I put my vitamin C every other day. I use 2 toners or first essence and a toner in both of my routines, I use 2 serums each night. I do not apply the same products each day, I use the products according to my skin needs. On top of that, I tend to be generous when applying products (not all of course).  And that's how I get to empty so many products.
So this is what I have emptied lately.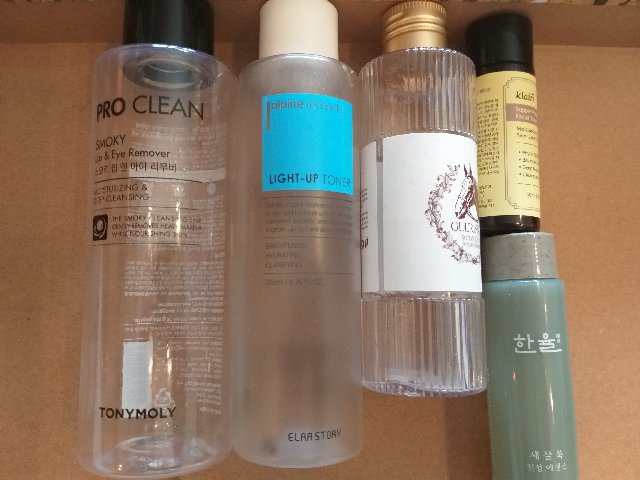 Tonymoly Pro-clean smoky lip & eye remover – this is not the first time that this makeup removers appears in my post. It's my favourite makeup remover, very effective, but at the same time gentle to my eyes. You got a big bottle of 250ml for affordable price which is not the case for western makeup removers. I have already repurchased the new bottle.
Elra Story Alpine remedy Light-up toner – it took me a while to empty this bottle. Since it contains some essential oils, I was quite hesitant about using it during summer although I do use a spf cream. Once the summer was over, I restarted using it in my morning routine after the niacinamide. It is really a refreshing toner. It is watery, but still has some body to it and is absorbed fast. I must admit I had used some better toners, but it is still good. I'm not sure if I will be repurchasing it again.
Guerisson 9-complex essence – this is also one of my HG products especially in my winter routines. It is a nice essence which calms and nourishes the skin, it is not tacky, it is absorbed quickly and what is the most important, it really makes a difference in my routine when the heating season begins (when a "wrong" routine can make my skin feeling a bit tight). I have already bought a new bottle and will keep on buying.
Klairs Supple preparation toner – I tried this toner in the beginning of my Kbeauty journey and I think I liked at the time, but I didn't repurchase. I had to try it again. I used it as a first step of my routine instead of first treatment essence. At first I was applying it with cotton pad, but I didn't like the overall feeling, so I switched to applying it with my fingers (the usual chok-chok method). It is refreshing and soothing, it softens the skin and makes it supple. I do like it, but honestly I do not know if I'm going to repurchase it, since I like better Acwell licorice toner when applied in the same way.
Hanyul Artemisia miracle relief essence – I used this essence as a first treatment essence. Unlike Missha's artemisia fte, I really liked this mugwort essence. It was not sticky, not even if I put few layers of it. My skin feels like it is really deeply hydrated and calmed and prepared for next layers. I went through this 50ml bottle fast because I really enjoyed using this. I will repurchase for sure.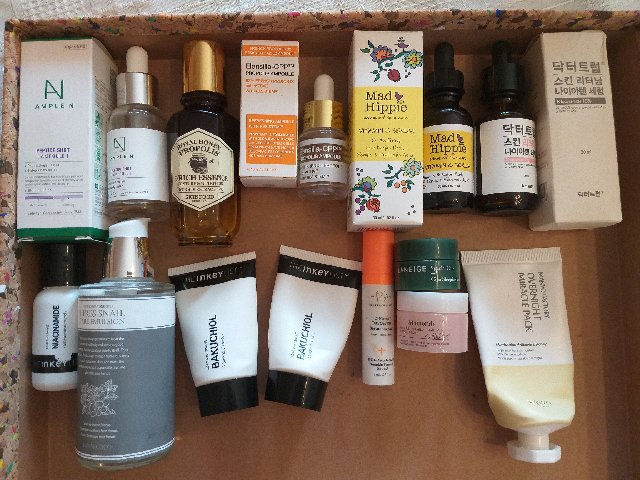 Coreana Ample:n peptide ampoule – When I bought this, I was hoping that I had found a cheap, but effective peptide ampoule. However, this is the first peptide serum that did actually nothing for my skin, except delivering some nutrition. I'm so happy to see the bottle in the trash. I will not repurchase.
Skinfood Royal Honey Propolis enrich essence – Although it is declared as an essence, for me it is a serum and I was always using it as such. It is really a nice propolis serum that nourishes deeply the skin and gives a nice and healthy glow. It sinks in nicely and doesn't leave a sticky residue as lot of propolis serums do. I will repurchase.
Elensilia CPP French propolis ampoule – Unlike Skinfood propolis, this one was a big miss. Although this is such a small bottle, I must admit I was really happy when I emptied it. Don't get me wrong, this is not a terrible product, but the stickiness it leaves, kills every benefit it has. I really do not have an issue when I have to think how to incorporate certain more "complicated" products like acids or retinols in my routine, but I honestly do not want to spend so much time thinking about what to do with a propolis serum/ampoule. And with this one, this was exactly what I was forced to do (when to apply, what to put before or after, should I mix it with something, with what to mix it, etc). You guess I will not purchase it again.
Mad Hippie C vitamin serum – before I started my Asian skincare journey, this was my favourite C vitamin serum and I still like it and buy it from time to time. It gives my skin a healthy glow and brightens it. If I have a breakout (which I rarely do), it helps the pimples to disappear / heal faster and helps the scars to fade away. I will repurchase again.
Sidmool Dr Troub niaten serum – this is yet another one of niacinamide serums that I really like. It calms the redness, brightens the skin, it is not harsh in any way, doesn't sting or cause irritation and has a perfect watery texture. I prefer watery niacinamide serums since I use it as a 1st step in my morning routine. I have already repurchased.
The Inkey List Niacinamide – as mentioned in my last post about 2019 skincare journey, the niacinamide was the ingredient that marked my 2019 from cosmetic point of view. This serum was one of the niacinamide serums I tried. The price
Swanicoco Herb & Snail emulsion – this emulsion was purchased by mistake since I actually wanted to buy Swanicoco Snail ferment emulsion. This purchase turned out to be fine. Honestly I didn't explore so much this category of products, so I do not have a lot to compare. This emulsion is excellent choice for spring / summer as a replacement for a moisturizer. I like the light texture it has and the way it refreshes/hydrates/moisturize the skin without the overload of any kind. Although I do not think that the emulsions are indispensable in my routine, I would repurchase this one.
The Inkey List bakuchiol – nice moisturizer at a really affordable price. It contains a very interesting ingredient, bakuchiol, marketed as a botanical replacement for retinol, but without any reactions that are usually linked to the use of retinol. As I said, it is nice moisturizer that has a texture of an emulsion, it is easily spread and absorbed. It worked well under my bb cream. It nourishes the skin, gives it a nice glow and suppleness, but also some firmness. I cannot speak about its impact on wrinkles, since it is really short time and basically I do not have wrinkles, except the mimic ones on my forehead. As you can see I went through 2 tubes and I'm thinking of buying 2 more.
Drunk Elephant C-firma day serum – I'm so happy I only had this small bottle and not a really expensive full size product.  It went bad even before I could use it all. On top of it, my skin didn't like it at all since it made it red and burned it. I will not repurchase.
Laneige Cica sleeping mask – I had so many different thoughts on this sleeping mask whilst using it and yet it is only 10ml jar. At first I didn't see any benefit for my skin. Maybe I wasn't used to its texture since it is on a thicker side, basically it has a texture of a moisturizer. But once I started using it as a moisturizer/ only occlusive in my routine, I really started to like it. It is nourishing and really calming. I especially liked this to be finish of my routine on the nights after I introduced A313, a French pommade containing vitamin A. I must say that I'm no fan of Laneige and besides Laneige cream skin refiner, this sleeping mask is the only product I liked so far. I have one more sample size and I will for sure buy a full size.
Mamonde Moisture Ceramide Intense cream – this is a nice moisturizer. It provides a great balance of moisture and nutrition and it is perfect for my skin. It has a nice texture and it is spread easily, it is not greasy in any way, it is absorbed fast. Beside Primera Alpine berry cream, this is the best moisturizer I tried lately. I will repurchase again.
Manyo Factory Miracle overnight pack – this was my big discovery of 2018 and my HG. Unfortunately, it is discontinued or at least it cannot be bought under this name and in this packaging (tube). I'm still trying to find it out. This was perfect sleeping mask and perfect finish of my routines to lock all the goodness I put on my face. I would repurchase again if I could!
MAKEUP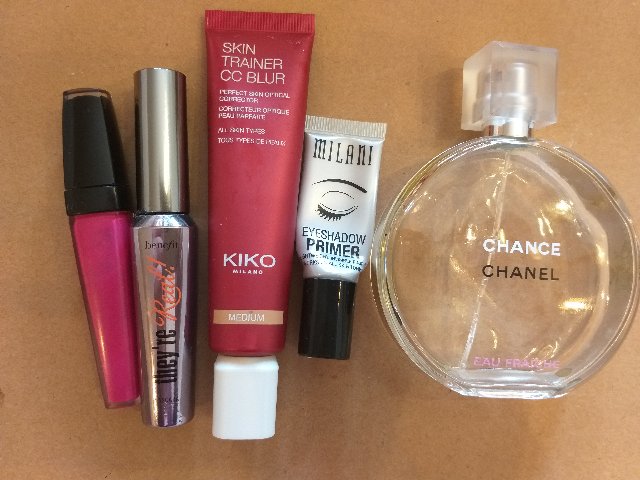 Lancôme Liquid matte rouge L'absolu velours – I do not remember the name of this colour and the letters on the packaging disappeared. Fuchsia is one of my favourite lip colors (and red of course). This formula feels comfortable on lips and not drying at all. The applicator shape is really nice and it makes the application smooth, easy and precise. However, the color doesn't last long and the reapplication is a must.
Benefit They're real mascara – I wasn't happy with this mascara. Maybe it is good one, but it is not a good choice for my lashes. I didn't like the brush and its short and sharp bristles. Basically, apart from nice color, this mascara didn't do much for my lashes. Also it smudges a bit. I still have a mini size of this mascara, that I got as a gift with this purchase, but I will not repurchase it.
Kiko Skin trainer cc blur – it has a nice, fluffy texture and is easily spread. It smoothes, matifies and evens the skin. It can be used as a primer, but I used it instead of a bb cream. If you look for a full coverage, you should skip this. The coverage is not very important for me and my skin needs. I will repurchase again (when I stumble upon a Kiko store somewhere).
Milani eye primer in nude – this is an excellent eye primer at very affordable price. It keeps put my eye-shadow and eye-liner throughout the whole day. It is not dry, neither greasy (just like my eyelids). I have already repurchased.
And as always, I finished some hair and body care items.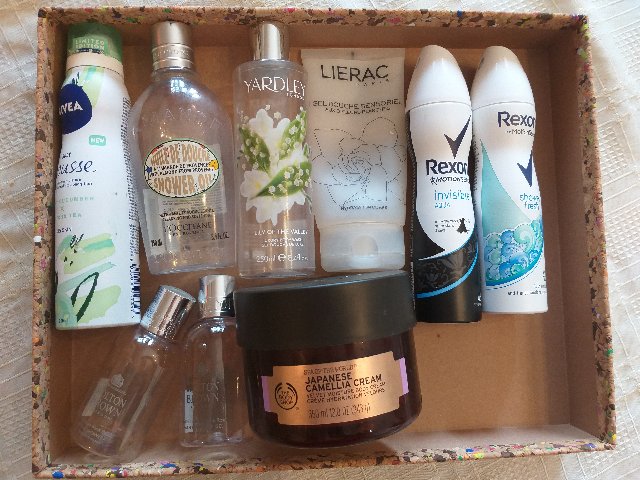 Till next time, stay healthy and beautiful!