Hello everybody!
Here is the second update of my skincare stash decrease project. So, these are my empties from March.
Farmacy Green clean cleansing balm – I have already written about this cleansing balm in my Empties post. This is my favorite cleansing balm. I will not bother you again with my enthusiastic review about this buttery cleansing goodness. I can say that I haven't changed my mind a bit. I love it and will continue buying it. I will be without it for some time until I decrease my stash. I wish I'd bought one for back up before my no-buy.
Bobbi Brown cleansing oil (15ml) – I got this oil as a gift with my HG eye cream Bobbi Brown. It is a lightweight oil that feels like satin when you start to cleanse your face. It is not oily at all, it emulsifies nicely and removes well the makeup, spf, everything.. I really like it and will definitely think about purchasing a full size product.
Glow Recipe Blueberry bounce cleanser – My opinion about this cleanser and Glow Recipe as brand in general is really an unpopular opinion. This is second product I tried from their range and I equally disliked it like their watermelon sleeping pack. I have been literally forcing myself to empty this 30ml bottle for almost a year!! I didn't even go through it all, I just had to throw it away. So, you can guess what kind of opinion I have  about this cleanser. Each time I applied it, my skin was feeling tight, like it was "getting smaller" with each second after I washed it off. On top of that, it burnt my eyes really badly while I was washing it off. And I didn't even try to remove my eye makeup with this. Honestly, I cannot imagine that I would ever try to remove my eye makeup with product that contains AHA!! I think my exploration of Glow Recipe products ends right here (I have already written about Glow Recipe watermelon mask in my previous post).
Pyunkang Yul Essence Toner 20ml – Pyunkang Yul Mist toner is one of my HG toners, so I thought I could also like Essence Toner. And I wasn't wrong. Of course by its consistence this is more an essence than a toner. It is hydrating, but more than that, it is calming and healing. It provides instant relief to the skin, is absorbed nicely without any sticky residue. Unlike the Mist Toner, this is basically perfect essence. I will for sure buy a full size bottle.
Cosrx Advanced Snail 96 mucin power essence – this is my HG of Kbeauty skincare. I do not count how many bottles of this essence I have emptied so far. I am always wondering how something so slimy and sticky can be so hydrating. This is also my go to skincare product, my skin saviour when I have some issues like skin redness, failed routines that cause some sensitivity, etc. It is gentle, hydrating, calming, soothing. I love it and will always keep buying it.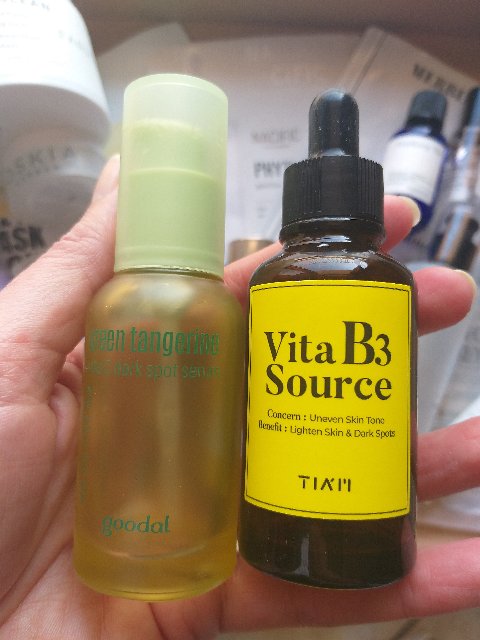 Goodal Green Tangerine Vita C dark spot serum – Although my skin loves a good vitamin C serum, I wasn't quite happy with this one. I have been using the vitamin C serums for more than a decade and I have tried my share of these. My skin enjoyed in almost all these serums, but I honestly cannot explain what is wrong with this one. It has a jelly texture which is easily spread, it does leave some sticky residue which disappears with the application of the next layer. The form of vitamin C used in this serum is ascorbyl glucoside which is stable against light and that why it is packed in a transparent bottle and not in a dark bottle as most vitamin C serums are. This form is non-irritating at all. And still I didn't like it.  Maybe it is because its main targets are the dark spots which I do not have. What disappointed me also is that I didn't even notice the immediate brightening effect and healthy glow which I got from almost all vitamin C serums. I also bought the pads from same line which I use also in my morning routine (one day I used the serum and next the pads). I will not repurchase the serum.
Tiam Vita B3 source – I use the niacianamide each day. Since I started to use religiously spf cream, I introduced some changes to my routine and switched the niacinamide and vitamin C serum. So now I put the niacinamide as first step in my evening routine. I really like the texture of this serum which feels a little bit greasy between the fingers (probably due to the arbutine), but once you start massaging it, it disappears instantly. It is gentle, not drying like some niacinamide serums tend to be (especially the ones with zinc). It clears the complexion, it brightens it, improves the skin texture. I will repurchase this for sure.
Bioderma Matricium – I use those on days that follow the application of A313 Vitamine A pommade. It is a thick, but still liquid, it is tacky, but really calms down any redness you might have. This flacon is for 2 uses. I still have more than 20 pcs in the stash.
Drunk Elephant Hydra-B serum – I bought this together with DE C-firma serum. Neither one of those serums didn't wow me, although I must say that Hydra-B is little bit better than C- Firma. It is a jelly serum that penetrates the skin fast, is not sticky, but the level of hydration it provides to skin is nothing extraordinary that would justify the price tag is has. I will not repurchase.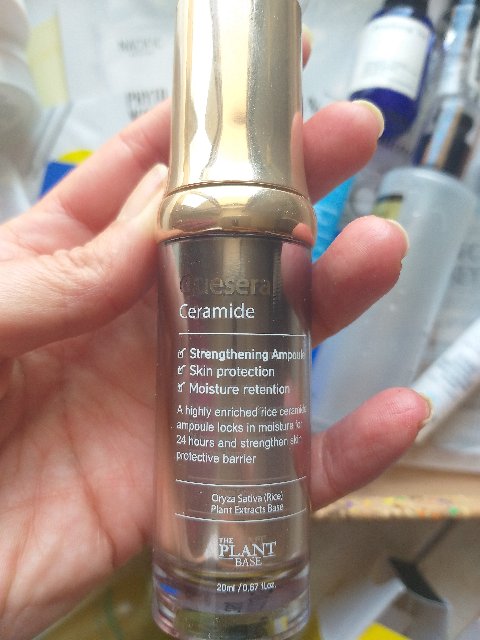 The Plant Base Quesera Ceramide serum – I had this on my wish list for a long time and I was really excited when I got my hands on this shinny bottle. I really must command the fancy golden packaging and the pressure dropper which makes the dosage easier. The serum itself is of a milky texture with some slip to it. The application is really easy and comfortable, the serum is absorbed fast and almost perfectly, it doesn't leave any tacky residue. We all know that the ceramides are important for strengthening the skin barrier. Mine is not damaged but I like to use some form of ceramides ever since I introduced the A313 (form of Vitamin A). This serum calms and nourishes the skin, makes it smooth and glowy. I don't like the bottle size (20ml) through which I went really very quickly. However, I will repurchase at a certain point.
A'pieu Glacier water hydrating ampoule – I liked this simple hydrating ampoule that combines the glacier water and sodium hyaluronate. It sooths and calms skin while cooling and moisturizing it at the same time. The texture is of a watery gel, easy to apply and well absorbed. Although I used it during the winter, this could be a perfect summer cooling/hydrating ampoule. I will repurchase.
Peter Thomas Roth Blue Marine Algae Intense Hydrating mask – this is an average wash-off mask. It provides some cooling effect, sinks in the skin and gives certain amount of hydration, but not the intense hydration as the product name says. Each time I put this on my face, I started to feel the tightening effect as if I didn't provide my skin with sufficient care. Just like the PTR cucumber mask version, it is absorbed completely, but the result is far from expected.  I will not repurchase.
Oskia Renaissance mask – I got this luxury sample in one of Lookfantastic's Beauty boxes and I enjoyed in every single masking. Although I wasn't using it on a regular basis, it impressed me each time I applied it. At the beginning, I was afraid of some negative reactions like burning, so I left it only for 5-6 minutes and then I washed it off. I didn't feel any burning, only slight tingling and only for first 2 times. I usually kept the mask on not more than 10 minutes. Once it is washed off, you can really see the difference. The skin is visibly brightened, very smooth and soft and it stays like this for days. Basically this mask does the chemical peeling (it contains lactic acid) but in a gentle way. Although the full size is rather pricey, I will buy it for sure.
Huxley Secrets of Sahara Good night sleep mask – Since I really like Huxley's Secrets of Sahara oil essence, I thought I would enjoy this sleeping mask which is also made with prickly pear cactus extract. However, I didn't. It is not a bad product, it is hydrating and soothing, feels comfortable on the skin, it is non-sticky and sinks in fast, but each time I put this, I have a feeling that my skin craves for one more layer of something, like my routine was unfinished. And this is not how your skin should feel after applying a sleeping pack which is supposed to seal everything in as a last step of the routine. I don't think I will repurchase.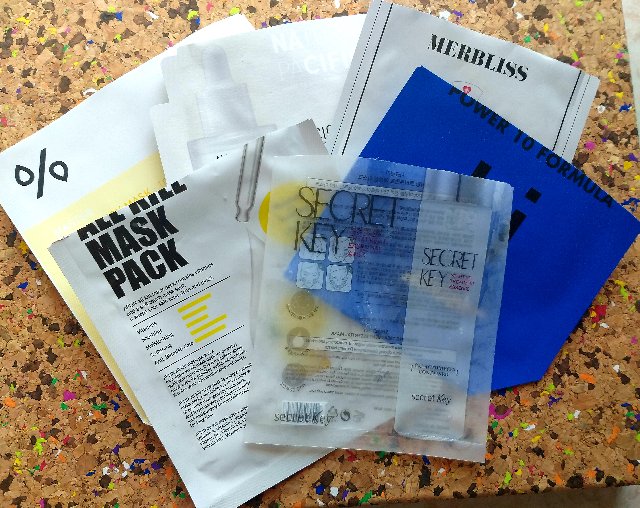 I thought I would be using more sheet masks since I'm constantly at home. However, this month I only used 6 sheet masks. Among them, I absolutely have to mention Secret Key Starting Treatment Essential mask. It completely blew my mind!! It made my skin so hydrated, calm, bouncy. I kept looking at the mirror and admiring the effect. I even took a selfie and I almost never do that!! And what's funny it's that I didn't even choose purposely this sheet, it came in a sheet mask set from Jolse. The reason why I would have never chosen this sheet mask before is because of my experience with Secret Key fte that I tried at the very beginning of my Kbeauty journey which did absolutely nothing to my skin. And this sheet mask could easily become one of my favorite mask.
And here is one of my rare selfies (and first posted on my blog) taken after the use of Secret Key sheet mask.  Please be kind and remember I'm 44 years old 🙂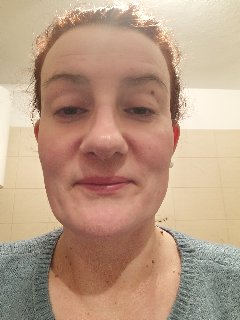 I must admit I broke the no-buy this month and bought some things. I emptied Goodal c vitamin, so I ordered Timeless C+ E ferulic acid although I did have The Inkey List vitamin C in my stash. However, I changed a bit my routine and switched vitamin C and niacinamide serum so I put vitamin C in the morning and niacinamide in the evening. Although I like The Inkey List, its silicony texture which requires some waiting before next step is not suitable for the quick routines before going to work. Then again, due to Covid-19, I changed my mind again as I described in my previous post about the products I opened in March and opened The Inkey List Vitamin C serum.
The other thing I couldn't resist to was the possibility of bidding for By Wishtrend Polyphenols in propolis 15% which I wanted to try for a long, long time. And the price I paid for it was great (15€) instead of maybe 27-28$ which is the usual Ebay rate. However this serums is still travelling from South Korea and I'm not sure if it will ever be delivered.
In March, I emptied:
3 cleansers / 1 toner / 1 essence / 2 acid – active treatments / 3 serums / 2 wash-off masks / 1 sleeping pack
March total: 13 empties + 6 sheet masks
Yearly total : 20 empties + 8 sheet masks
So, at the end of March 2020, this is current status of my skincare stash:
17 cleansers
20 toners and mists
19 acid & active treatments
13 essences
15 serums / ampoules
4 emulsions
23 moisturizers and sunscreens
7 sleeping packs
11 facial oils
20 masks
5 eye creams and eye masks
111 sheet masks
Till next time stay healthy and beautiful!