Hello everybody!
Since I'm on a no-buy, I do not have any haul to share with you and that's why I started to write in March about the products I opened during the month.  So, here are my newly opened skincare products from April.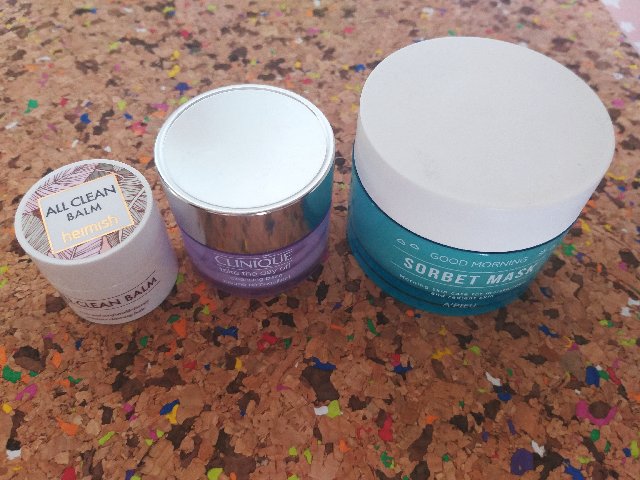 Heimish All clean balm – I got this mini jar in Kbeauty bag from Iherb. This is not my first encounter with this cleansing balm. I have already tried it at the very beginning of my Kbeauty adventure and I must admit that I didn't like it then for some reason I cannot remember now (I didn't like Banila either). Since my favorite cleansing balm (Farmacy Green clean) is rather expensive, I thought I could give this balm a try again. The jar is sufficient for maybe a week or so,  so I will be able to test it properly. So far I like it, although it doesn't feel as buttery as my Farmacy balm once you start massaging it.
Clinique Take the day off cleansing balm – I have never tried before this famous Clinique's cleansing balm. Although I really love my Farmacy Green clean, I always try to test other cleansing balms. At first, Clinique is more solid and greasier than Farmacy, it doesn't melt as nicely as Farmacy and it leaves a film on the skin after rinsing. I do not like it after the first application.
A'pieu Good morning sorbet mask – Although I am pretty persistent in maintaining my skincare routine, I do wake up from time to time feeling lazy to do my normal skincare routine. On one of those mornings, I opened this mask. It is supposed to be the last step of the morning routine and it is not supposed to be wash off (this is kind of sleeping pack for morning 😁). I only did a water splash and then I put on this mask. After minute or two, I felt really strong cooling feeling. The mask left a tiny sticky film on the skin, but it's bearable. I followed the mask with only Dr Jart Re-cover cream and didn't experience any issues during the day.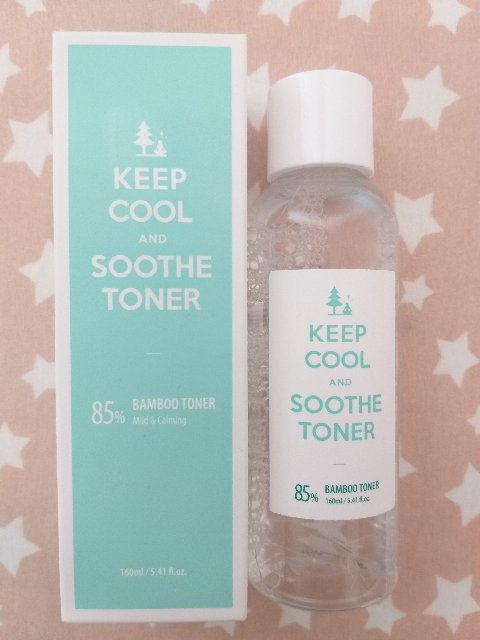 Keep Cool & Soothe Bamboo toner – Since all the toners I currently use are more on a thicker side (Scinic, Klavuu, Earth Recipe), I wanted to reintroduce some watery toner to my routine. I struggled a bit between my all time favorite watery toner Pyunkang Yul mist toner and this one, but finally I decided to open Keep Cool and Smoothe. This time I left aside something old and blue (Pyunkang Yul) and took something new (Keep Cool & Soothe). 😁
It is really watery, light, completely odourless and absorbed fast. I have a feeling that the hydration it provides really penetrates deeply into the skin. I did 3-skin method with this toner and I was amazed how plump and healthy my skin looked. It is composed mostly of bamboo water, but also contains sodium hyaluronate, glycerine, etc. It has a nice ingredients list. I like it so far.
Nooni Re-pair turnover peel pads (7-days regimen) – although it is a 1-week treatment, I do not use the pads every single day. In general, I do not use anything on a daily basis that is supposed to do the peeling or has some acids in the ingredients list. These pads are gentle, I didn't experience any stinging or had any bad skin reaction what so ever.  Concerning the exfoliating part, since this is gentle I do not see some big effect. The skin is softer, but there is no big difference before and after I apply these pads.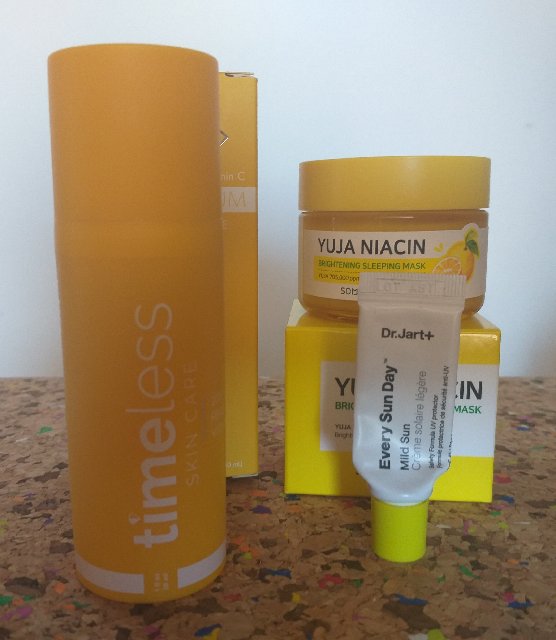 Timeless C + E ferulic serum – I finally got my hands on this highly raved serum. Although I'm used to the vitamin C serums, my small disaster with The Inkey List's serum made me take a pause from vitamin C, but finally I did open it. My first impression is that I like it. It is really watery, so I only need few drops to cover my face. It is absorbed completely and doesn't leave any sticky residue. And what is the most important, it doesn't sting, burn or anything similar. I store it in my refrigerator in order to keep it fresh.
Dr.Jart+ Every Sun Day Mild sun spf43 PA+++ – All I have to say is that at first I was so happy that I only had a small tube of 5ml. This is a mineral sunscreen, it is thick and just like lot of other mineral sunscreens it leaves a significant white cast, so I look like a ghost for a while when I apply it. It absorbs and dries out completely with a matte finish. What I didn't like also is that once it is absorbed I had the feeling that my skin is very dry. However, when I added 1 additional layer of moisture under this sunscreen, I really had a nice experience and love how my face looks with this sunscreen and without bb cream.
Some by Mi Yuja niacin brightening sleeping mask – this is a lightweight gel type sleeping mask that is absorbed fast and completely into the skin and seals nicely your evening routine. It is refreshing, hydrating and really brightening. It has a nice citrusy scent, but it is not overwhelming or annoying. The skin feels soft to touch in the morning, plump and refreshed. I think it will be a perfect sleeping mask for the summer. I quite like it.
Till next time, stay healthy and beautiful!