Hello everybody!
This is the 4th update of my 2020 skincare stash decrease project.
For the reference, I'm 44 years old, with normal skin, which is acting little bit weird lately and tends to be somewhat sensitive (I suppose that comes with the number 44). I do not have wrinkles, besides the horizontal ones on my forehead and these are my companions ever since I was 12 years old. For those who watched the cartoon Smurfs, I was always like the Grouchy smurf when I was teenager and that's where my forehead wrinkles come from. I started to use the retinoids few months ago, not a Retin A, but some milder and weaker form, A313, Vitamin A pommade. I have been struggling with Sebhorreic dermatitis for years, but it hasn't appeared on my face for years now.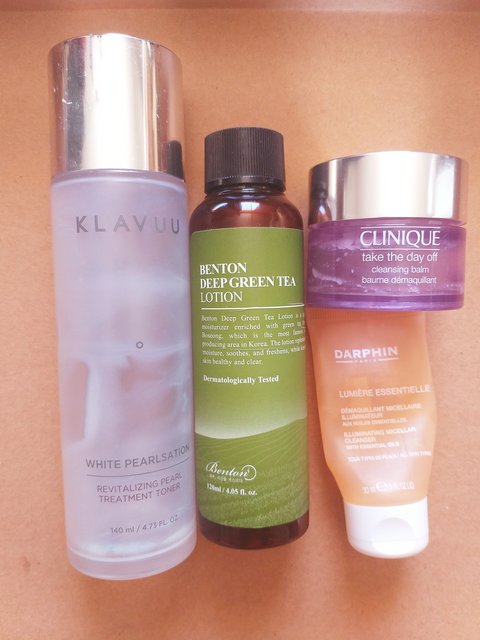 Clinique Take the day off cleansing balm – this cleansing balm is thick balm, it melts well, it is effective in removing the makeup, dirt, spf. It doesn't leave the greasy residue on the skin, it is washed off nicely, but my overall impression is that I still prefer my Farmacy Green clean to this Clinique's balm. I will probably buy it from time to time.
Darphin Lumiere essentielle – micellar cleanser – this is a gel-type second cleanser, it is really pleasant to use, non-aggressive or drying. It does its job pretty decently (it does everything what a good second cleanser is supposed to do), washes off nicely without any residue.  I honestly do not have any remarks, but on the other hand, I'm not eager to repurchase a full size.
Klavuu White Pearlsation Revitalising Pearl treatment toner – such a star name with all that pearls in it and then again such a boring toner. I'm a little bit disappointed with it, because I honestly did not see any benefit for my skin. It is very viscous and slippery and because of that is very easy to spread, it glides on the skin nicely. This milky lotion is well absorbed and leaves no residue. The ingredient for which this toner could stand out, besides niacinamide, is pearl extract which is beneficial for the skin, but other than some amount of hydration, I didn't see any additional benefits (brightening, suppleness). What bothered me also is the scent, which is not unpleasant or strong, it is just too artificial. I will not repurchase.
Benton Green tea lotion – Honestly, I bought this emulsion by mistake. Actually I wanted to buy the toner from the same line, but I did my shopping in a very hasty way without paying attention to what I was buying and got this instead of toner. This is really light emulsion, thinner than the average emulsion I tried. When I think of it, I didn't try too many emulsions. This is not a bad product, it is hydrating, very refreshing, but to tell you the truth, I do not see any special benefit for my skin if I use the emulsion (not only this one, but emulsion in general). When I empty the ones I have, I will not be buying again.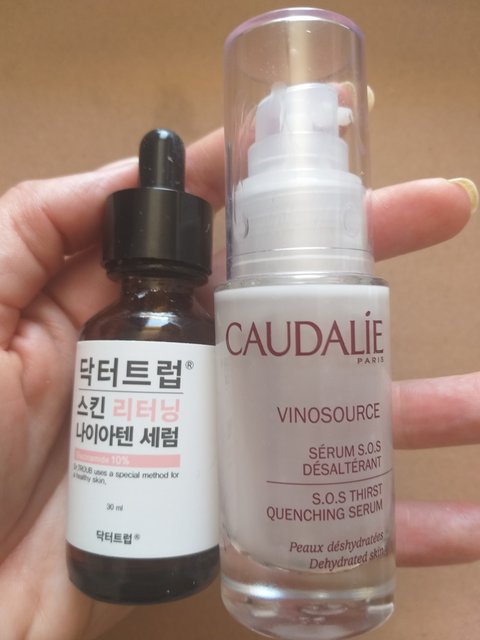 Sidmool Dr Troub niaten – I have already emptied a bottle of this niacinamide serum and have written about it in my Empties post. I really like its watery texture and the way it absorbs into the skin. It calms the redness, brightens the skin, it is not harsh in any way, doesn't sting or cause irritation. It is perfect choice due its watery textures since I use it as a 1st step in my evening routine. I will repurchase.
Caudalie Vinosource S.O.S. calming serum – this is one of only few western serums that I really enjoy reintroducing over and over again to my routine. It provides the deep and lasting hydration, it is gentle, well absorbed and in general, very pleasant to use. The only thing I do not like about this serum is that I go through it very quickly (if I use it morning and evening, it lasts less than a month). I will repurchase it for sure.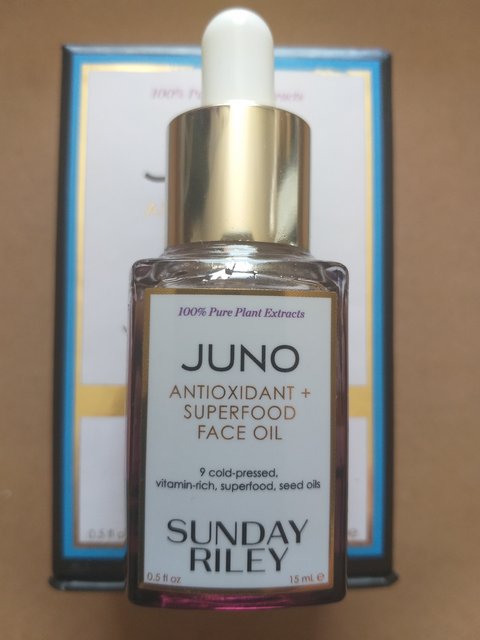 Sunday Riley Juno Antioxidant + superfood oil – This is such a great, luxury oil blend!  I love it!! It contains 9 high-quality cold-pressed oils (blackberry, blueberry, cranberry, grape seed oil, black cumin and some other oils). This oil delivers moisture and nourishment at the same time and it makes my skin healthy and juicy giving it such a nice glow. I enjoyed in every single drop of this luxury treat. I will repurchase it for sure!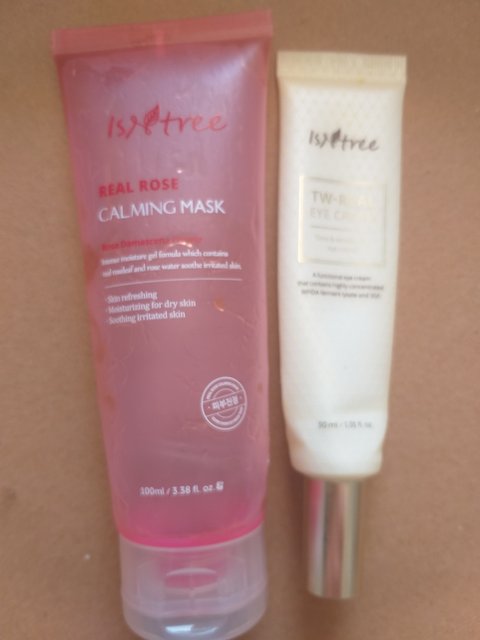 Isntree Bifida TW-real eye cream – Since I opened this eye cream right after I emptied my HG eye cream, Bobbi Brown Extra Repair eye cream, this one had really huge shoes to fill. So I basically didn't expect much, but I got pleasantly surprised. This eye cream has a gel texture, is nicely spread and absorbs quickly and completely. Due to the silicones in the INCI list, it is occlusive, but is also moisturizing. My eye area didn't worsen in the sense that some wrinkles reappeared while I was using this eye cream, and it really maintained well the soft look and feel of my eye area. I was mostly applying it in my night routine, but I have also put it few times in my morning routine and it worked well under my Missha BB cream.  I will repurchase it again.
Isntree Rose calming mask –  This is wonderful moisturising and calming wash-off mask. It has a gel-type texture and is infused with rose petals. I applied this mask sometimes once a week and sometimes twice. The instructions say that you are suppose to leave it on your skin for 10-15 minutes, but I left it sometimes for even 30 minutes and it never dried out completely. The consistency of the mask is not watery, so it does not drip off the face. To make the rinsing easier, I usually put some water on the face and emulsify it before I start to wash it off properly. After the mask is rinsed off, the skin is soft, nourished, any irritation or redness is gone. The scent of rose is not overwhelming or clingy, I find it very pleasant and this makes the whole masking experience even more lovely. Of course, people who don't like the rose scent will not like this one either. I have already small tube in my back up (I have bought a set of 4 different Isntree masks).
Dr Jart Cicapair Tiger grass color correcting treatment – or as I love to call it "green cream". This is second jar I emptied so far. This jar usually lasts around 1 year. I apply it when I don't feel like using my BB cream. I must admit that lately all I have been using is this cream. Applying this cream requires little bit of practising since you could end up looking like Casper, the friendly ghost, if you go with heavier hand.  For me, the good way to apply it is in dots, massaging and building it up. This is definitely not a first choice if I'm in a hurry. The coverage is light, but still enough for the current look of my skin. It neutralizes redness and evens the skin tone, it feels very nice on the skin. The finish is matte. Taking into account its light coverage, it does start to disappear within few hours, but still in a nice way without any ugly streaks. Now there are small jars available in all shops which sell Dr Jart, which wasn't the case before, so I will definitely repurchase a smaller jar.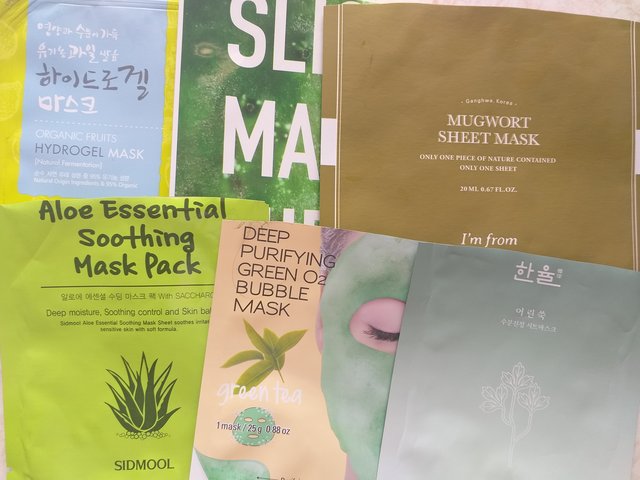 I have managed again to use up some sheet masks. I used 6 of them so I'm really happy to conclude that the stash of my sheet masks finally fell under 100 pcs. As you can see, my sheet masks empties for May are all green. First 2 or 3 were a pure coincidence, but then when I noticed it, I was purposely choosing the sheet masks with green packaging till the end of May.
In May, I emptied: 2 cleansers / 1 toner / 1 active treatment / 1 serum / 1 emulsion / 1 moisturizer / 1 facial oil / 1 wash off mask / 1 eye cream
May total: 10 empties + 6 sheet masks
Yearly total : 38 empties + 23 sheet masks
I must admit that I've cheated again and bought few things: I'm from Fig cleansing balm, Zelens Power A oil drop, Paula's Choice 10% Niacinamide booster, Paula's Choice Resist Skin Restoring moisturiser SPF50 trial size.
So, at the end of May 2020, this is current status of my skincare stash:
14 cleansers
19 toners and mists
21 acid & active treatments
14 essences
13 serums / ampoules
3 emulsions
22 moisturizers and sunscreens
5 sleeping packs
10 facial oils
19 masks
4 eye creams and eye masks
96 sheet masks
Till next time stay healthy and beautiful!