Hello everybody!
Although I promissed myself that I would be much more present on my blog, it's been again a month now since I posted something.
I have already said that my favourite posts are the ones about the emptied products, so it was so logical that my first post ever was about my empties.
Since this first Empties post, I was pilling my beauty trash during few months and my cosmetic garbage bin is now full to the top and even over the top, so it's time for my new empties post. I think I even have enough material for two posts. I will decide this during the process of writing, but I'm sure that this post could be marked as longreads if I write about every single product I emptied during past months.
As you will see, I do not have a lot of make up in my beauty trash, since I do not use a lot (bb cream, eye liner, mascara, lipstick and sometimes eye shadow). Also, I do not have lots of hair products since I go twice a week at the hairdresser who takes care of my hair (I obviously have some special discount as a frequent service user).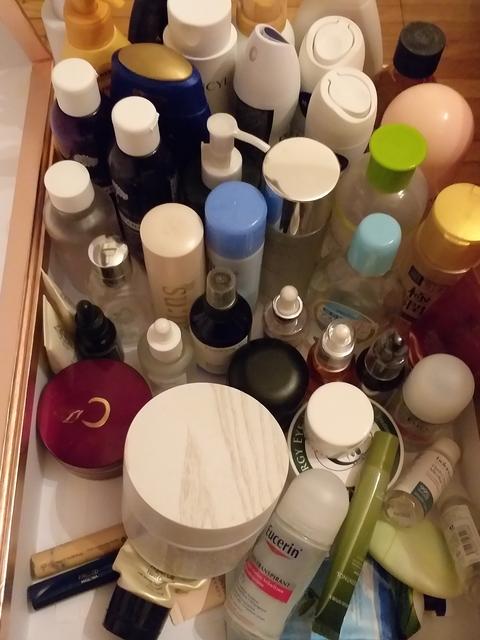 SKINCARE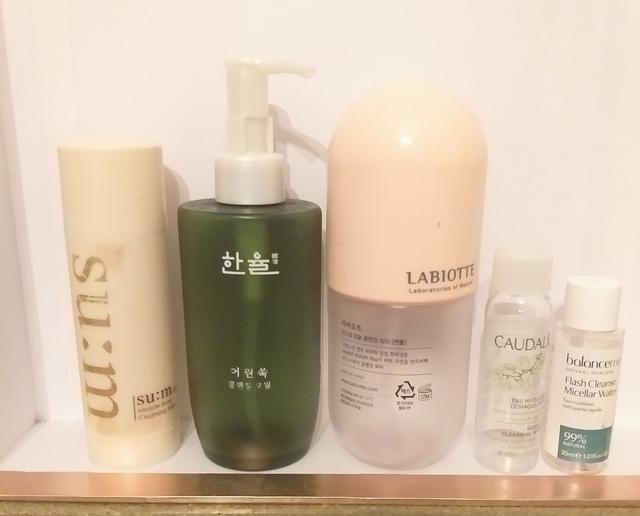 SU:M37 Miracle rose cleansing stick – This is an excellent 2nd cleanser, gentle and not drying at all, very effective in removing the residues of 1st cleanser and everything else. It lasts long, it is very travel friendly due to the packaging form. And unfortunately lately it's almost impossible to find it on Ebay and online shops. I sincerely hope it is not discontinued!!
Hanyul Pure Artemisia cleansing oil – Excellent cleansing oil, mild, yet effective in removing dirt and make up. You only need a small amount to wash your face. It is not thick as some oils, it turns into a nice emulsion quickly.  It doesn't leave a sticky residue, it is easily washed off and it smells nice. Although it is on the pricey side, I will definetely buy again since it lasts for a long time.
Labiotte Code derm Capsule cleansing water Adoucir – Nice cleansing water. It does what it is supposed to do and that's removing make up and dirt. It is mild, effective, it doesn't dry the skin. What I liked about this cleansing water is its nice rose packaging and the way it dispenses the product: you put the cotton pad on the bottle and you pump the product out. I'm not a big fan of cleansing / micellar waters, but I always have one in my bathroom for quick removal of make up when I'm lasy for double cleansing. I cannot say if I will repurchase this or not.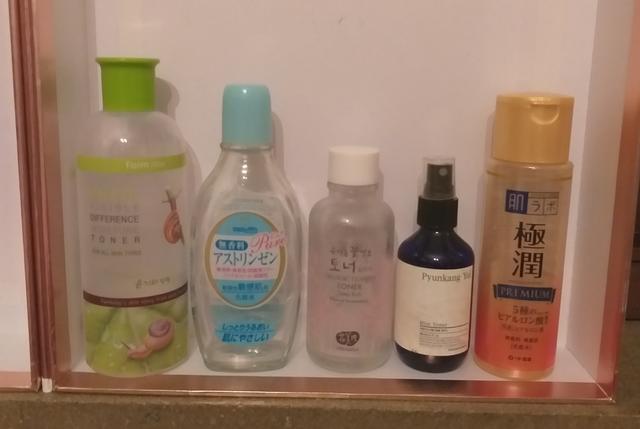 Farm Stay Visible difference snail toner – this is a very nice toner. It has a gel-like texture which is absorbed quickly. Although it contains a snail mucin, it's not sticky or slimy  at all. It is really refreshing and moisturizing. I use it usually as a 3rd toner in my routine. I will repurchase for sure.
Meishoku fragrance free astringent 170ml sensitive skin ceramide – I have a real love & hate relationship with this toner. This is my second bottle and it usually lasts a year. Before I finished this bottle, I started to feel like my skin will hate it again. It means that it is becoming more and more difficult for my skin to absorb it. And when this happens, it stops the nice absorption of everything I put on top of it. I interprete this as if my skin got enough ceramides for a certain period of time. However, when we are in love phase, it is a perfect 1st step in my routine which really strenghtens my skin, nourishes it and keeps my skin barrier well and protected. I will repurchase for sure in spite of bad phases.
Whamisa deep rich toner – At first, I couldn't pass by the strong herbal scent which was bothering me and was preventing me to see how great this toner is!! Closer I was to the bottom of the bottle, more I liked it. So moisturizing and nourishing at the same time, it's a real treat for the skin. I will definitely buy again.
Pyunkang Yul mist toner – I'm pretty sure that you will see this toner in lots of my posts since this is one of my 2 favourite hydrating toners. Perfect hydration, always excellent choise for use after HA toners, mild, absorbed fast and without any sticky residu. I will always have a backup bottle (for the moment I have 2).
Hada labo gokujyun hyaluronic acid lotion – this is definetely my HG product which makes a big difference for my skin. It is absored fastly without a sticky residue, it has a beautiful plumping effect, it feeds my skin with enough moisture leaving it soft and with healthy glow. Out of precaution, I always put a moisturizing toner after it. Just out of curiosity, I will try now a serum with betaglucan (from Iunik). Apparently it has better moisturizing effect than HA. I will let you know.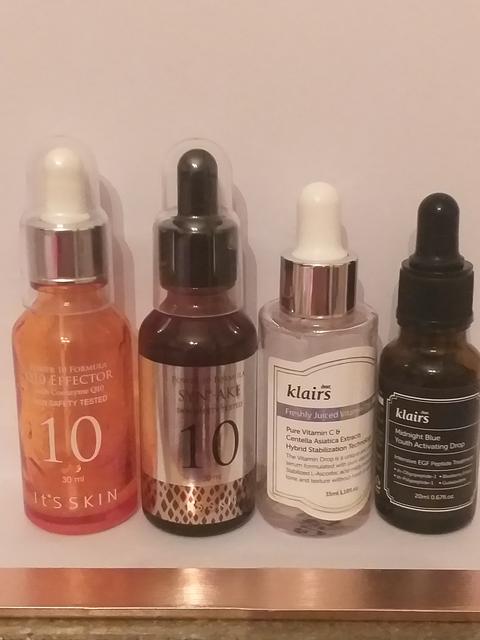 It's skin Power 10 formula Q10 serum – another one of the cheap, yet great serums from Power 10 ampoule series. It plumps the skin, nourishes it nicely and I think that, in conjunction with another great serum from this line, Syn-ake version, it helped tone down a bit a big wrinkle on my forehead which is there since I was 12.
Klairs Freshly juiced vitamin C drops – I love this vitamin C serum!! I used it during summer in my morning routine and it really made a big difference to my skin. It brightened visibly my complexion and made it very even and smooth. It helped for some acne on my chin to heal faster. I used it in the serum step, before my bb cream. I'm in love with this serum and will repurchase it!!
Klairs Midnight blue youth activating drop – this is nice peptide serum. The name itself is rather attractive: Youth activating drop and it makes you wanna buy it immediately. We all know that the fountain of youth doesn't exist, but this little bottle helps you keep it at least for a little longer. This is the most runny/watery serum I have ever tried which makes it very difficult to handle. I put all serums with the dropper directly to the face and then massage it, but the texture of this serum makes it almost impossible to put directly on the skin unless you want to spill it. I wasted few ml of the 20ml in the bottle before I decided to poor it in my palm and then to massage it. When applied, it is almost immediately completely absorbed. My face feels and looks firmer and brighter. It evens the skin and make it supple. Although it is serum, it is recommended to use it as a first step of the routine, so the peptides inside come immediately on the skin. Although with its 20ml only, it comes on a pricey side, I will repurchase it for sure, since I really like this serum.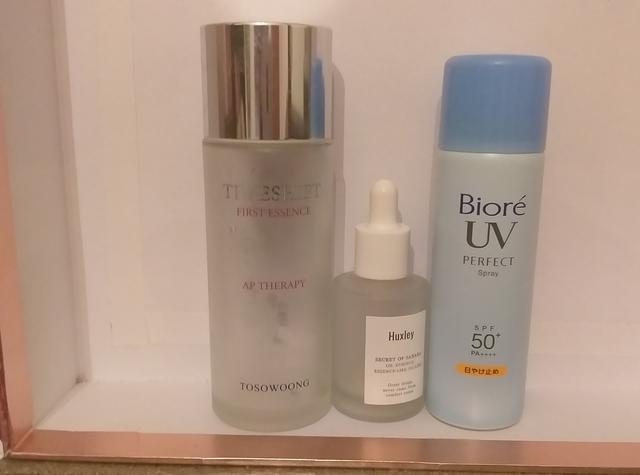 Tosowoong Timeshift  First Essence AP Therapy – this is one of my two favourite first essences (the other one is From Nature FTE). It makes my skin a perfect canvas for absorption of other products; my skin is soft, smooth amd hydrated. I just love it!! For a moment, I do not have either one of those two. However, when I reduce my current stash, I will repurchase for sure.
Huxley Secrets of Sahara oil essence – this product was my big discovery and big hit of this summer. At first, I used it in my morning and my night routine: in the morning before my bb cream and in the night as a last step or followed by light sleeping pack. Then I replaced it in my morning routine with Klairs vitamin c drops. Although it is declared as an essence, it is a perfect serum which gives the skin a perfect moisture, glow and healthy shine and at the same time, it keeps it under control during the summer in a way that prevents the skin of becoming oily. I was waking up every morning with perfect shinny skin and with no trace of oil at all (which sometimes happens to me during summer). It has a beautifull scent which doesn't linger for a longtime. Will repurchase!!
Kao Biore spf50 spray – I was carrying it around since I walk a lot outside during the summer due to the nature of my job. It is excellent for renewing the sun protection and it can be used on top of make up. However, I ran out of it rather quickly, so I'm still not sure if I will repurchase or not since it is a bit on a pricey side.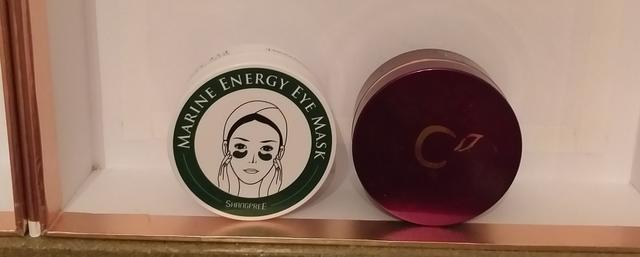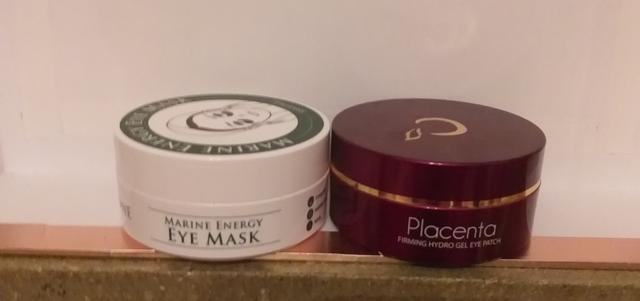 Shangpree Marine energy eye patches – I had this for a longtime on my WL because of great reviews it had and I simply had to try it. This is not a bad product, au contraire… these are nice eye patches that brighten and refresh the eye area. However, you can get same results with cheaper eye patches (for exemple I found equally good or even better, but much cheaper eye patches like Berissom placenta, Petitfee gold snail). I have already bought 2 new types of eye patches. I like to try different products so I won't probably repurchase again.
Berrisom placenta eye patches – As I mentioned above, I got really nice results with these eye patches who brightened and refreshed my undereye area. Of course, the results are always temporary and I do not expect that the eye patches will improve drastically the situation. However, I always have a box or two of eye patches and I love to use them few times per week.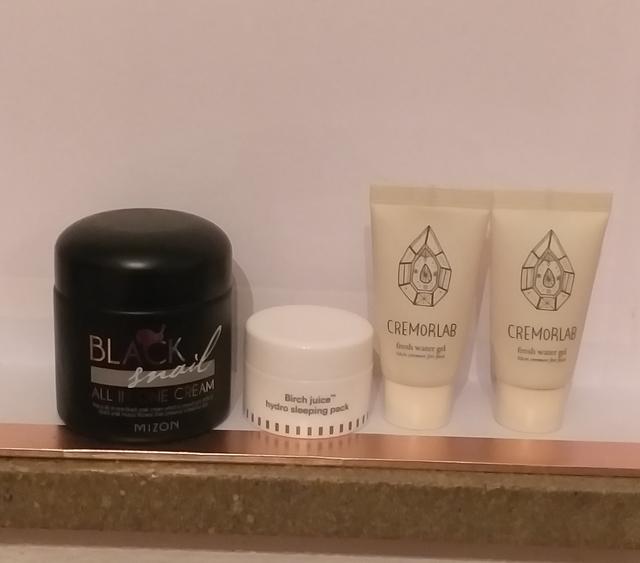 Mizon Black snail All in one cream – This is one of the legendary K-beauty products. I love it and I repurchased it few times. I really love how it sinks nicely in the skin leaving it soft and silky and at the same time, it keeps the sebum balanced and under control. I used this jar at the beggining of the summer and didn't repurchase since, but I will for sure. The only downside of this product is his packaging (jar) as I do not like to dip my fingers into the product. However, I found the solution for this and bought some spatulas which I use for products that do not come with one.
Enature Birch juice hydro sleeping pack – this is one of my summer favourites and I have already written about it. It is really a juicy product as its name says. It is really moisturizing and refreshing and I used it this summer both as a moisturizer and a sleeping pack. I still have one small jar to use and then I will test Manyo Factory sleeping pack. However, this Enature's sleeping pack is really nice product and I will repurchase a full size product.
Cremorlab Fresh water gel – I was using these tubes while I was away from home since they were in my travel bag. So, I wasn't using it on a regular basis, but only from time to time. What I can say about it, that is really a nice moisturizer and I would eventually like to buy a full size product.
MAKE UP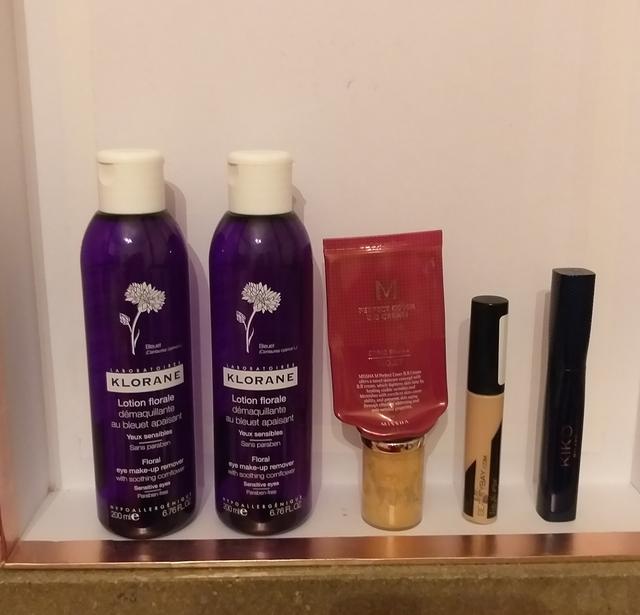 Klorane Lotion Florale demaquillante make up remover – for a long time this was my favorite eye make up remover. I used to buy it on Cocooncenter.fr since it was sold in 2-pack and the size of bottle is 200ml (unlike all others make up removers which usually come in small 30 ml bottles). This was really an excellent deal. And an excellent product!! It is gentle, yet effective. I only use 2-3 cotton pads to remove my eye make up, and this without rubbing my eyes. I just put a cotton pad soaked with this liquid on my eyes and keep it for a while. It removes well the mascara, eye liner, eye primer. You should keep in mind that I do not use waterproof mascara or lot of eye shadows. Will repurchase this eventually.
Beautybay lip and eye primer – I had it for such a long time. At first I bought it for my lips and later I was only using it under my eye liner. It was equally good for lips and eyes, although I used it on my lips only few times. It definetely made my red lipstick more vibrant and made it last longer than it usually does. On my eyes, it was also really effective since it kept my eye liner under control: there was no colour fading, no smudging. It is really a decent eye primer, not expensive at all. I tried to buy it again on Beautybay, but I couldn't find it and I'm afraid that it is discontinued. Otherwise, I would buy it again for sure.
Missha Perfect cover bb cream in shade #27 – this is my HG bb cream that I have been using last few years and I always have a backup tube. My shade 27 is sometimes rather difficult to purchase and that's why I always buy 2 pcs at a time. This is perfect bb cream for my needs in terms of coverage and finish. It took me a while to find a perfect shade for my skin, but once I found it, I will never be without it! Oh yes, I will repurchase!!
Kiko Fall 2.0 mascara – I loved this mascara which really enhanced my lashes in volume and colour (I have long lashes which need a bit of volume and density). Being LE product, I do not find it amymore online (there are no Kiko stores in my country).
BATH AND BODY CARE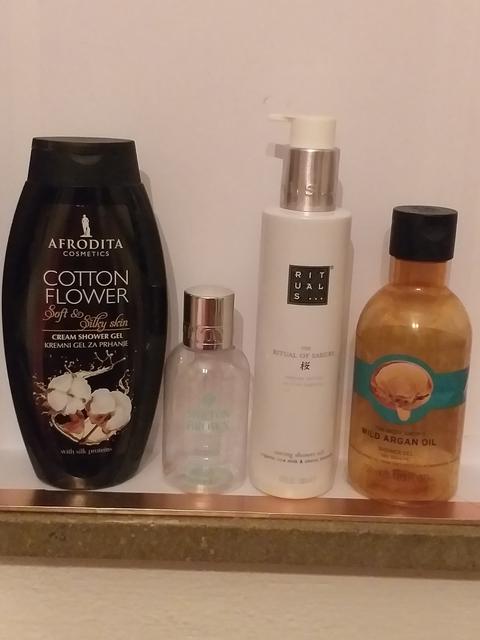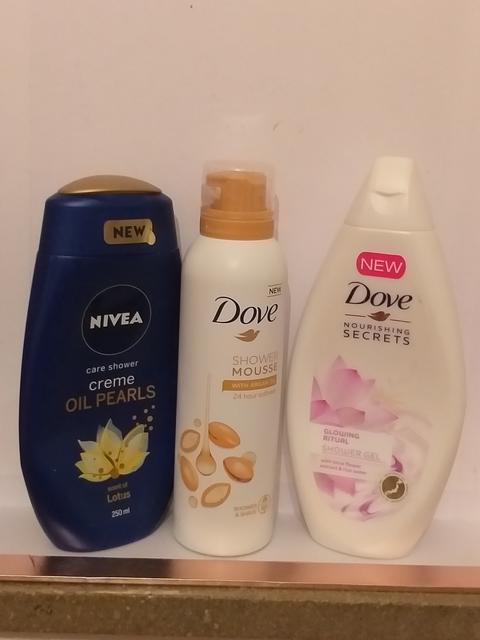 I always say the bath and body care products are really subject to a personal preferences, especially when talking about the scents. For exemple, I am not big fan of floral or fruity scents, but I like powdery, argan, almond oil like scents.  I will not write about each one of the shower gels above. I will just say that one of my favourites shower gels and favourite The Body Shop scents is Wild argan oil. I tried body butter, shower gel, body scrub, hand lotion and I adore it. I'm a bit affraid that it is also LE since it is difficult to find it from time to time.
And just to mention that the first black bottle is Afrodita Cosmetics Cotton flower Cream shower gel. Afrodita Cosmetics is Slovenian brand which has a skincare range and the bodycare range. I love the bodycare range, especially some shower gels that smell just great, but at the same time provide excellent care.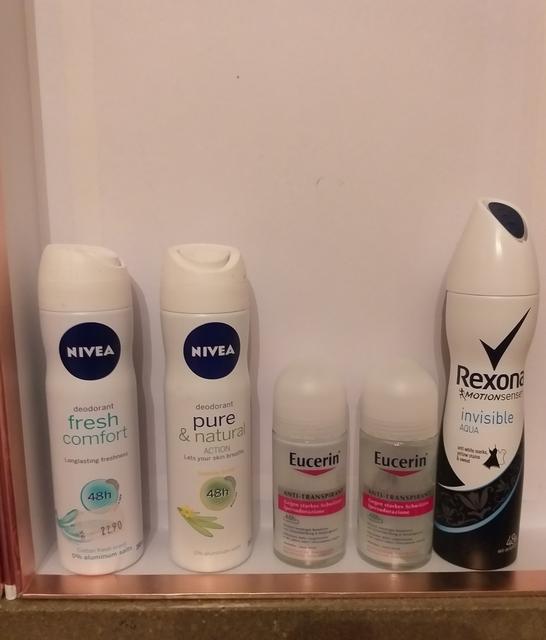 During quite a while, I was only using the roll-on deodorants. However, lately I'm using again some sprey deodorants and still exploring which one is the best.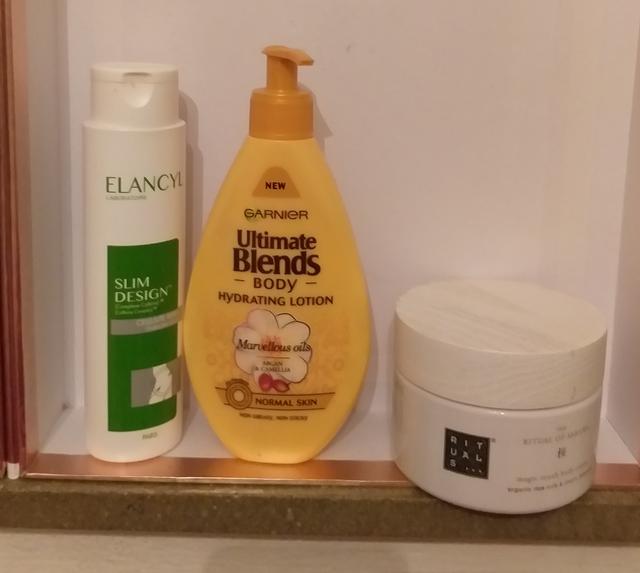 As you can see, I have one anti-cellulite gel in empties. This is not my first bottle of Elyncyl Slim Design that I used up. I was using it last summer also and repurchased 2 bottles this spring. Obviously it did something for me since it is repurchased item. I know that it does not make a cellulite disappear. However, it smoothes the skin surface making it look firmer.
I used up also some sheet masks, some products in samples pouches or travel size, but I think this is quite enough for this empties post.
Till next time, stay healthy and beautiful!