Hello everybody!
I hope you're all well.
In my last post, I wrote a little bit about my experience with sheet masks, how I keep track of what I have and what I tried so far.
Today I would like to share with you my top 5 sheet masks. I really tried a lot of sheet masks, for different purposes, made of variuos materials and made for various budgets. As you will see, I have on my list both cheap ones and more expensive ones. The order is random, because I honestly cannot choose which one of those 5 I like the best!! I love them all and buy them all the time.
Illi Total aging Ginseng firming hydrogel mask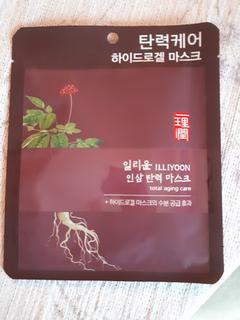 Oh how I like this one! I still remember the first time I opened this sheet mask! The smell was absolutely divine. Till today I do not know if this scent is how ginseng is supposed to smell, but it's divine as I said. It's hydrogel two-piece mask which is rather easy to handle. The openings for eyes and mouth fit me perfectly. However, this mask has some strange cut on chin, or basicaly the chin stays uncovered no matter how you place it on. Otherwise it fits perfectly. Since this is a hydrogel sheet mask, there is no leaking of liquid, but at the same time you can keep the mask for a longer time without fearing that it will dry the skin (which can sometimes happen with cotton sheet masks if you keep them too long). The skin feels great upon removing this sheet mask. It's really hydrating, but yet it leaves the skin firm and tight, but in a good way. I spent already a pack of 5 pcs and few days ago I received new ones. I will keep on buying it as long as it will be on the market.
Papa Recipe Bombee Whitening Honey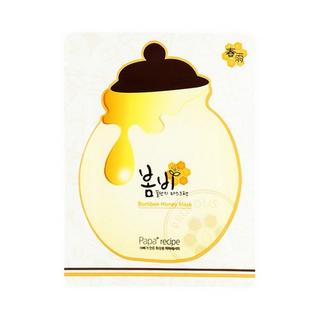 The picture is not mine; it was taken from the internet.
Every time I think about this mask, it makes me smile. First, I just love the smell of this mask!! When you put it on your face, it smells like heaven. And this was huge surprise for me, since I do not like honey or anything related to honey. But when it comes to cosmetics, my skin adores both honey and propolis. The fit of this mask is good. It is well soaked, but it doesn't leak. I always use the remaining liquid to treat my body also and not only my face. The material is thin, comfortable. The skin is amazing after you remove the mask: well hydrated, plump, soft, balanced and with evened color and texture. I already used a pack of 10 pcs. New ones came in few days ago.
My Scheming Mandelic acid Brightening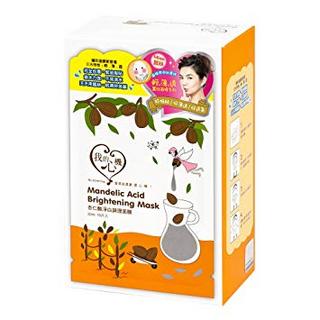 The picture is not mine; it was taken from the internet.
This is very cheap, yet extremely effective sheet mask which delivers exactly what its name says: brightening.  When it comes to the products which have the word brightening in the name, I'm always wondering if they do anything. This notion brightening can be pretty confusing. But in case of the sheet mask, it's pretty clear what it means and what it does. Upon removing the mask, the before and after is really different and visible. The skin is so much brighter and skin tone is even from forehead to chin.  It makes the skin so soft and perfectly smooth. And what's even better, the result is also visible the morning after!! The material is very soft, almost completely transparent, feels great on the skin. Of course, I will repurchase!
Hanyul Pure Artemisia fresh calming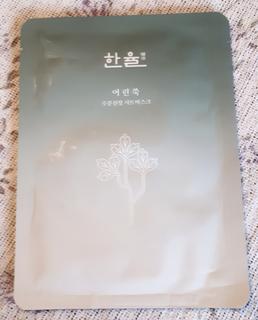 Hanyul is the brand that I am discovering recently. I have the cleansing oil from this same line and it is perfect. I can tell the same for this sheet mask. It is really well soaked and still it is not leaking. There was not a lot of essence remaining in the package. The mask itself is rather big, especially on the chin (it covers whole chin, while some others bearly cover it). This sheet mask feels great on the skin, calms it, I would say that it even has some kind of cooling effect. It evens the complexion in a very nice way.
Lovemore Mung beans and licorice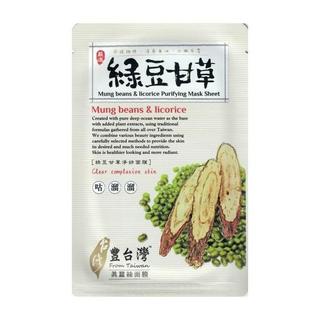 The picture is not mine; it was taken from the internet
When I first put this sheet masks, I was kind of disappointed with its shape. It was huge, the biggest sheet mask I've ever used. The openings were not well cut, the ones for eyes were too close and the one for the mouth was too small. However, the issues with the shape were forgotten fast since the effect is just amazing. It is very hydrating, moisturizing, it perfectly softens the skin. The skin is looking kind of brighter, I noticed both whitening and brightening effect. And what's even more amazing, the effect was visible the morning after too!! Excellent and very cheap mask. What do you think if I have it in my stash? 😁
And here are also some honorable mentions:
Aprilskin honey and red ginseng
Erborian ginseng shot
Polatam Hydro radiance
Cremorlab Herb tea pure calming
My Beauty Diary Kenting Algae Elastin moisturizing
Goodal waterest moisture HA
Do you like sheet masks? What are your favourites?
Till next post, stay healthy and beautiful!