Hello everybody!
It's been a while now since I posted something on my little blog. I work a lot during summer, and I do not have much time for anything else. But now, when the winter is approching I will have time for fun, including my blog.
I was trying to keep myself on a cosmetic shopping diet since I really hoarded quite a lot lately and my beauty stash is really huge. However, from time to time, I treated myself with something I had on my wishlist for a longtime, sometimes  after a hard day at work, I bought something just to reward myself and sometimes I simply could not resist to a discount code or a special price.
So below you can see some results of the actions I undertook lately 😁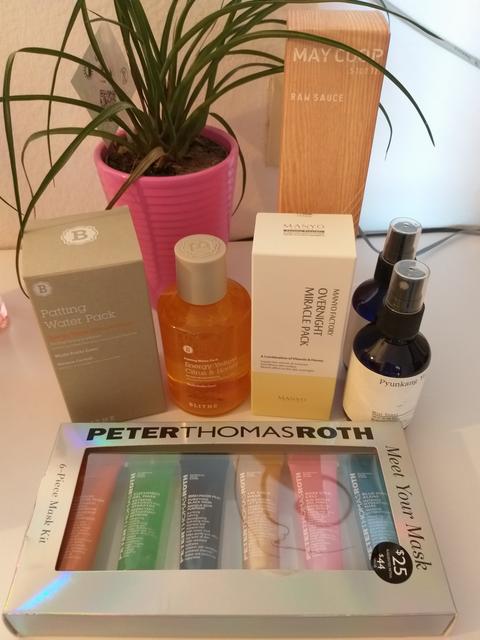 Peter Thomas Roth set of 6 different mask – this is a great set to try these rather expensive masks which have a HG status for many women.
May Coop Raw sauce – when I saw that it was on a promotion at Jolse.com, I couldn't resist to buy since I had it for such a longtime on my WL.
Manyo Overnight miracle sleeping pack – if the reviews are true, this will be a miracle product. Sleeping packs are probably the only category of Kbeauty products that I didn't explore enough. I'm really looking forward to try this.
Pyunkang yul mist toner – one of my favourite hydrating toners. I always buy it on Iherb when they offer a discount on Kbeauty items. This time I bought two bottles.
Blithe Patting water pack Energy yellow citrus & honey – usually the splash masks from Blithe are quite expensive. I bought this one for only 12 USD since it was discounted due to the expiry date in March 2019. I will have to open it and use it quickly, so I will see soon if it is really worth that retail price it usually has.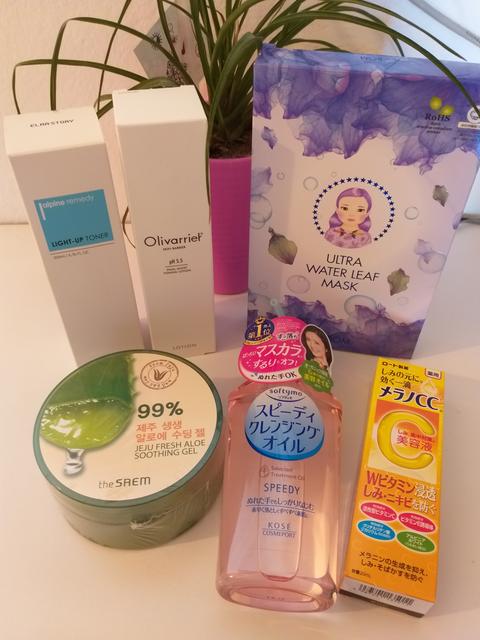 Saem aloe vera gel 99% – during the summer, I always like to have an aloe vera gel in case of sunburns, insect bites or stings, etc. I purchase this Saem aloe when  Iherb had a discount on all aloe range.
Melano CC serum – my skin adores the serums with C vitamin and I have been reading only excellent reviews about this Japanese serum. The one from Klairs that I have been using this summer, really made a difference for my skin, so I really have some high hopes from this one.
Kose Softymo cleansing oil – This is replacement for my Hanyul Pure Artemisia cleansing oil which was excellent.
Olivarrier dual moist toning lotion – This was also a part of my WL for a long time. Since it advertises 5.5 ph, this should be a replacement for my Acwell licorice toner that I simply adore, but that is rather difficult or almost impossible to find lately.
A by bom Ultra water leef sheet mask – basically I bought this since I thought that it had an interesting shape as "sister" from same brand that I had longtime on my WL and which I mentioned when I wrote about my Ebay wish list. I think I made a little mistake about the shape. However, maybe I will like the mask itself.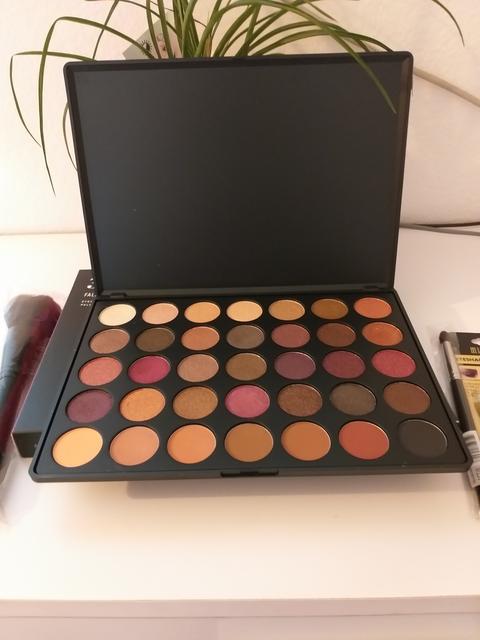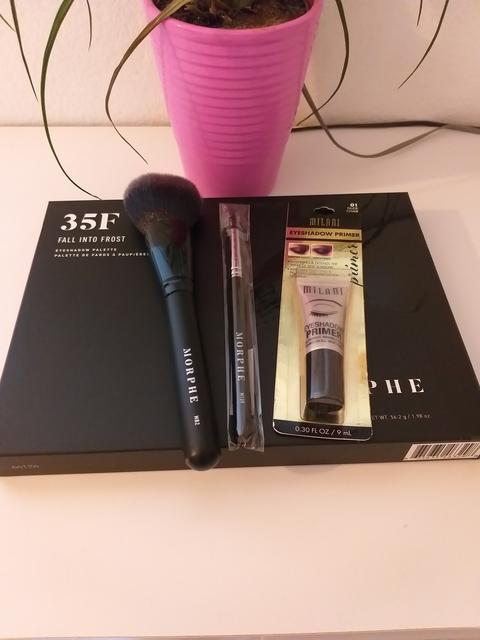 Morphe 35F Fall into frost palette and Morphe brushes – Beautybay will no longer sell Morphe, so they had 50% on everything in order to sell out the stocks. I couldn't resist and bought this palette and some brushes. I read that Morphe eye shadows are great, so I look forward to try them.
Milani eye primer – I bought this only because of price. I do not put a lot of eye make up, so I do not have high expectations. I would only like that my eye liner survives throughout the working day without making me look like a panda.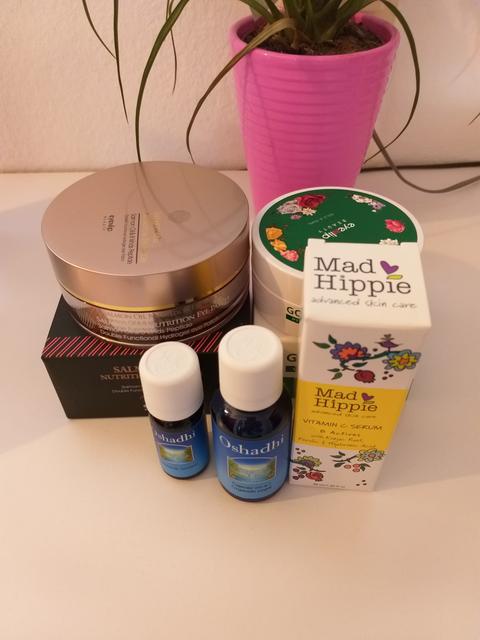 Eyenlip gold snail eye patches – since I will run out of my Shangpree Marine eye patches soon, I had to buy new ones. Up till now I think I didn't repurchase any of the patches I tried so far, although I really liked some of them (Berrisom placenta, Petitfee gold snail). My advice to you is that you don't have to pay a lot of money for this kind of product.
I used a promo price on Beautynetkorea to buy another eye patches from Eyenlip: Salmon oil nutrition eye patches (with salmon oil and 8 kinds of peptides). The packaging really looks like it is a luxury product. We will see if the effect will match the look.
Mad Hippie C vitamin serum – this is 2nd vitamin C serum that I bought lately. Up till last year, this was a regular part of my routine and I just loved it. Although it was my HG serum, I replaced it with Kbeauty serums. Big discount on Iherb was an opportunity to remind myself how I loved this serum.
And last, some essential oils from Oshadi: tea tree and eucalyptus. I akways have a bottle of tea tree oil in case some pimple appears or to prevent the toenail fungus or just for adding in the water while cleaning my bathroom.
So, did you treat yourselves with something lately? What did you buy?
I hope that I will not be absent from my blog again for 2 months like this time.
Till then, stay healthy and beautiful!