Although I wasn't present a lot at my blog lately, I have been really active when it comes to emptying beauty products and I hope I will continue with this pace since my big goal is to decrease my stash. I'm trying to use/finish as much products as possible, without, of course, troubling my skin or overloading my routines.
So, without further ado, here are my empties (and once again, due to a really long absence from my blog, I have again a big pile of empties to write about).
SKINCARE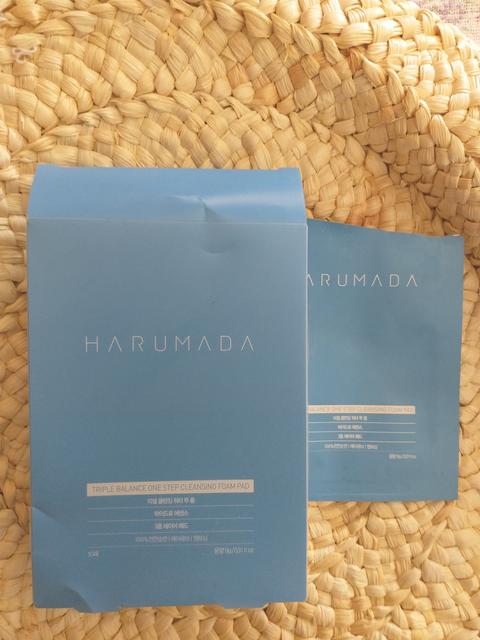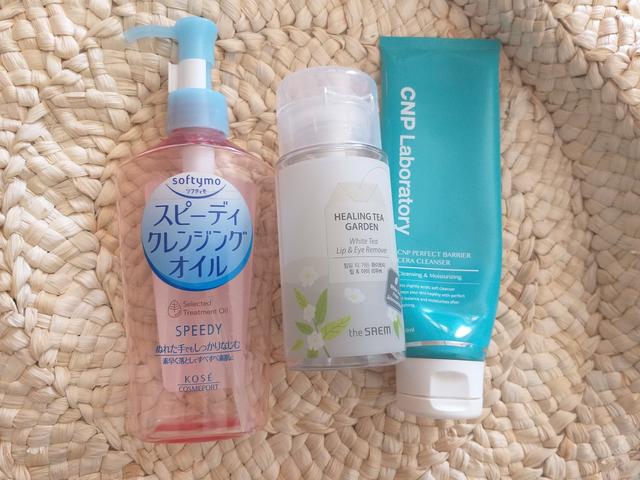 Harumada Triple balance one-step cleansing pads – Excellent cleansing pads, very travel friendly. These pads do a great job in removing the makeup, dirt, grimes without having to do a double cleansing. I use these for my so called lazy cleansing routine. Would repurchase for sure if I could find anywhere!!
Kose softymo cleansing oil – nice, effective cleansing oil which turns into nice emulsion when mixed with water. It is affordable and lasts really long time. I will repurchase again, but not immediately since I really like to try new cleansers.
CNP Laboratory Perfect barrier cera cleanser – this complimented really well my 1st cleanser. It is gentle, not drying at all, effective, you only need a small quantity to wash your face (a pea size). But my problem with cleansers is that I do not stick to one, not even when I find an excellent cleanser and this one was excellent for me.
The Saem Healing tea garden White tea lip & eye remover – I struggled with this one, since I used much more cotton pads to remove my eye makeup than I usually need with my regular Tonymoly remover.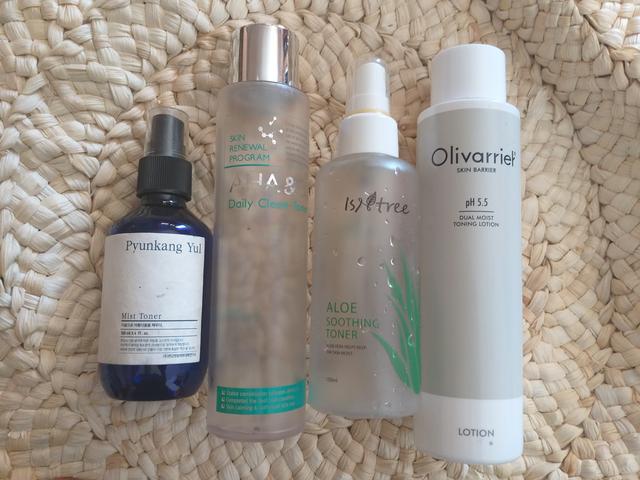 Pyunkang yul mist toner – this is one of my favourite toners. For the moment, I have 1 opened and 1 bottle waiting in my stash. I use it often and usually in both my morning and my evening routines.  It provides a perfect hydration to my skin, while refreshing it at the same time.  It is a nice watery toner which is absorbed easily and it doesn't leave a sticky feeling. Since it is watery, it can also be used in 7-skin method. It is colourless and scentless which I really appreciate. My skin loves it and I will be repurchasing this toner again and again.
Isntree aloe soothing toner – this toner was one of my big discoveries of 2018. It is a colourless, odourless liquid, more viscous than water. It provides nice hydration, soothes the skin and gives it a nice glow. It isn't sticky at all which can sometimes happen with aloe containing products.  I was usually using it as a 2nd toner, sometimes as the only toner. I can say that my face was feeling really happy when I applied this toner. I will repurchase!!
Mizon AHA/BHA toner – great preparation toner which functions great with all acid treatments and vitamin C serums. It is not irritating at all and it gives every treatment such a nice boost. Already repurchased!
Olivarrier dual moist toner lotion 5.5. – I bought this toner to try it as a replacement for Acwell licorice 5.5 which became rather difficult to find online. It seems that this one is pretty same when talking about difficulty to purchase. It is a nice toner which I used usually as a first toner in my routine. It is thicker than water, yellowish, unscented and is absorbed quickly. Due to the squalane and alantoin this toner contains, it is also nourishing. Actually, it is more nourishing than hydrating. If you're looking for a hydrating toner, this shouldn't be your first choice. I liked this toner, but wasn't crazy about it. Maybe I will repurchase it in the future.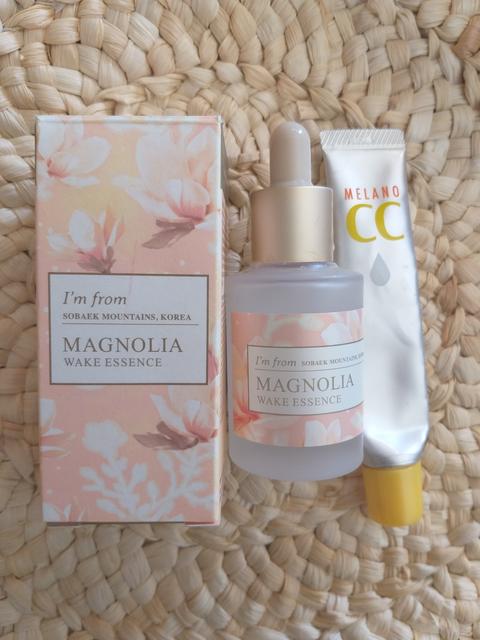 I'm from Magnolia wake essence – I opened it on New Year's day and mentioned it in my post about first morning routine in 2019. I was putting it almost every morning under my bb cream. I didn't treat it as an essence since it has a jelly consistence and is thick and not watery. It is absorbed nicely providing a decent hydration and glow. However, I did have to apply more than my usual 3 drops of serum (1 on each cheek and 1 on forehead) and I ran out of it quite quickly. I tried to find it again on ebay, but without too much success, so I guess it is discontinued. Sadly I don't think I will repurchase.
Melano CC serum – I have already mentioned few times in my  posts that my skin adores serums containing vitamin C and this serum wasn't any exception to that rule. It brightens the skin, it evens the texture and helps the scars and the pimples heal faster. The packaging is great and prevents the serum from oxydizing. This is an excellent serum which I will repurchase!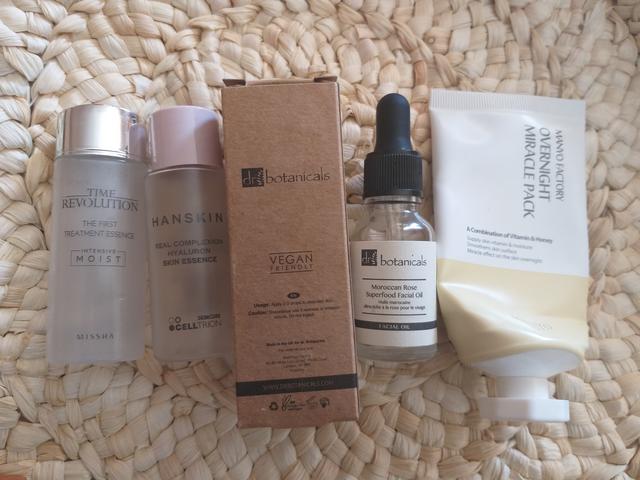 Hanskin Real Complexion Hyaluron skin essence – I really liked this essence and how it pushes in the watery layers previously put and how it makes the skin plump and hydrated. I felt like it wipped out completely the surface of the skin in few seconds without actually drying it. I will definitely repurchase when I decrease my stash!
Missha first treatment essence Intensive moist – I used this essence at the very beginning of my Kbeauty adventure and I honestly didn't see many benefits from using it. I'm not even sure if I used it in a correct manner. However few FTEs and few years later, I decided to give it a second chance and I really liked it. It is really effective and, at the same time, really hydrating first step which nicely prepares the skin for next steps.
Manyo Factory Miracle overnight pack – this is my biggest discovery of 2018 and my HG when it comes to sleeping masks. It has a gel consistency, it sinks in the skin perfectly while sealing in all the goodness previously put, is refreshing, hydrating and in the morning I wake up with glowy glass skin. Already repurchased and will continue to!
Dr Botanicals Facial oil – I got this in one of my Lookfantastic beauty boxes. This was the most watery and runny facial oil I have ever seen. Actually it's not oily in any way! I felt like I was using a toner or lotion, not an oil. I was using it as a last step of my night routine, after my moisturizer and for me, this was a perfect combo. My skin was just perfect in the morning: silky, shinny, not oily at all. Before I opened this oil, I haven't been using the oils for years. And this reminded me of how my skin loves nice facial oil. Although this was really nice oil, for the moment I will not repurchase it, since I bought few new ones (The Ordinary, Sunday Riley Juno, Farsali).
MAKEUP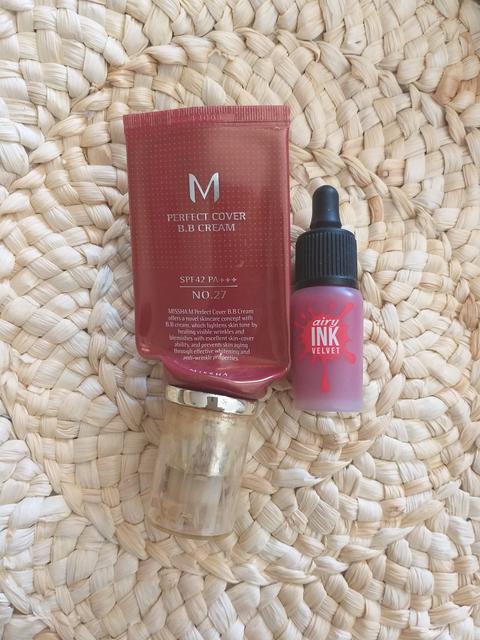 Peripera Airy ink velvet in shade Sold out red – I have few different Peripera's liquid tints and I love them all. This is perfect red, cool toned tint which suits well my complexion. It is well pigmented and creamy, it is not drying at all, but still it is not tacky. And it is really crazy how long it stays on lips even with eating, drinking, talking. I was really impressed with this lip tint. Will repurchase!!
Missha Perfect cover bb cream in shade 27 – my favourite bb cream and you will probably see it often in my posts. This shade can be hard to find and that's why I always try to have at least one back-up tube.
SHEET MASKS AND SAMPLE SIZE PRODUCTS
I made an inventory of my sheet masks collection and sorted out some masks that are coming close to the expiry date. Some of the masks below were used before the sorting action took place.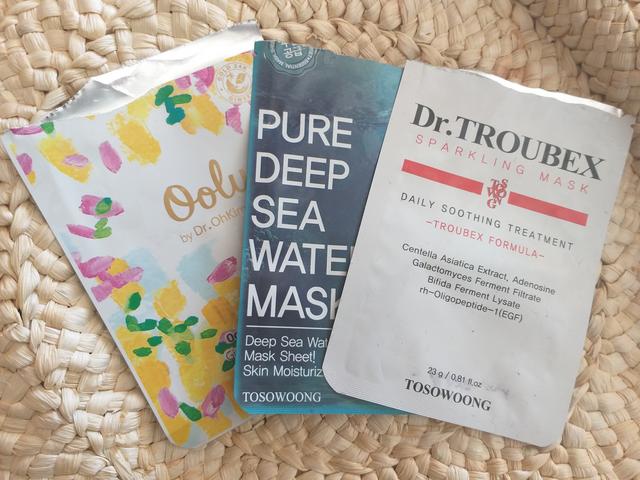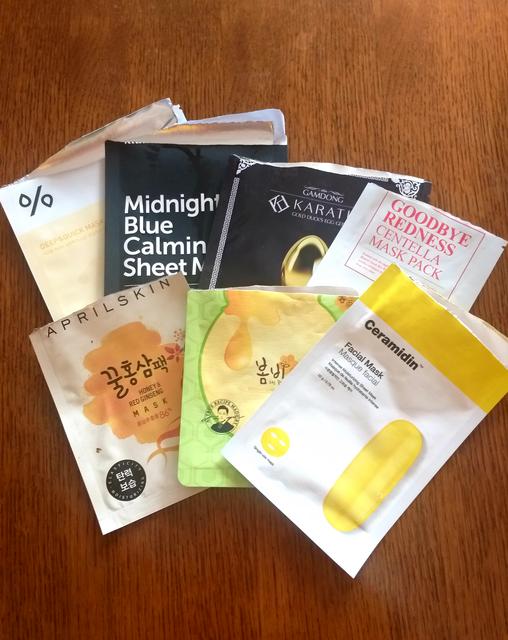 Oolu dr Ohkims Ginseng gold – I mentioned this sheet mask in my Favourite sheet mask post. Unfortunately, this was the last Oolu mask I had in my stash. I cannot find it anywhere and I'm so sad. My skin looks great after it, it is glowy, soft and even.
Tosowoong Pure deep sea water mask – it provides a fine hydration to the skin, softens it and evens the complexion. I also like the scent which is powdery and not overwhelming at all.
Tosowoong Dr Troubex sparkling mask – it is extremely calming, it makes the skin soft and velvety, it gives it such a nice glow. It is really sparkling as its name says
Klairs Midnight blue calming – If one day I would have to decide to stop buying the sheet masks and to pick only 5 sheet masks to keep buying forever, this mask would be one of these 5 masks. It does everything what it claims: calms, sooths, hydrates. It is really a big relief for a skin. Already repurchased and will continue buying.
Benton Goodbye redness centella mask pack – I wasn't so thrilled with this sheet mask as I thought I would be. It's an average sheet mask. It doesn't provide lot of hydration and it's not that soothing as I expected it to be. Will use the remaining sheet, but will not purchase again.
Aprilskin Honey & Reed ginseng – this was for quite a long time one of my favourite sheet mask. Unfortunately it is discontinued. This was the last one in my stash.
Papa Recipe Bombee Green Honey – the reason why I enjoy so much in Papa Recipe's sheet mask is the divine scent that spreads once you open the packaging. I thought I would start to cry of happiness when I opened this one. Just divine! As for mask, it is excellent, hydrating, soothing, but still I like a little bit more my Papa Recipe Bombee honey (in yellow packaging). But will repurchase this green one.
Dr Jart Ceramidin – I didn't try any other product from Ceramidin line, but I heard lots of great reviews for the liquid, the cream, so I expected that this sheet mask will do the wonders. Obviously it didn't. It is a nice sheet mask that nourishes and soothes the skin, but I didn't like the strong scent which didn't not vanish throughout my whole masking time.
Tosowoong Deep&Quick mask – tone-up care – nice sheet mask, as all Tosowoong's masks I tried.
Sulwhasoo First care activating serum EX – Although it is called a serum, basically it is a first treatment essence with a gel consistency. It has that particular scent that all Sulwhasoo products have, but it disappears fast. It is absorbed nicely and it really gives a great boost to all other layers. I love it!
SU:M37 Losec summa softener – a great toner with a gel-like consistency. It smells nicely and refreshes the skin while softening it at the same time. I use it as a 2nd toner.
Ohui Miracle softener – it is a milky toner and it does what it claims: softens the skin to facilitate the absorption of the next steps. I find it ok, but nothing special. From time to time, depending what I put on top of it, I felt an unpleasant tingling. I have one more bottle in my stash, but I won't repurchase.
BODY CARE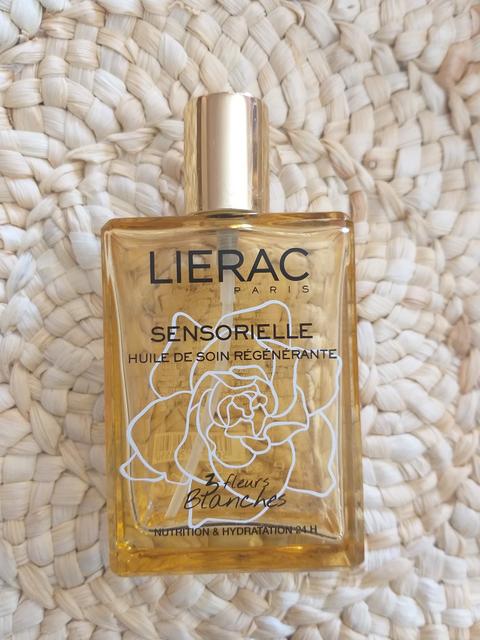 Lierac huile seche 3 fleurs blanches – I don't tend to write about the body care products since I think that this category is too much dependant on a personal taste, since the scent is pretty important for this type of products. However, I really must mention this dry oil since this is my favourite body oil. No other oil is close to this one for me with the care and scent it provides.
I have already started to work actively on my next Empties post. I'm keeping my beauty garbage bin busy.
So, till next time, stay healthy and beautiful!