Hello everybody!
This is the first update of my skincare stash decrease project. Basically these are my latest empties and I do not have a lot of them since it's been only a little bit more than a week since I posted the stash inventory.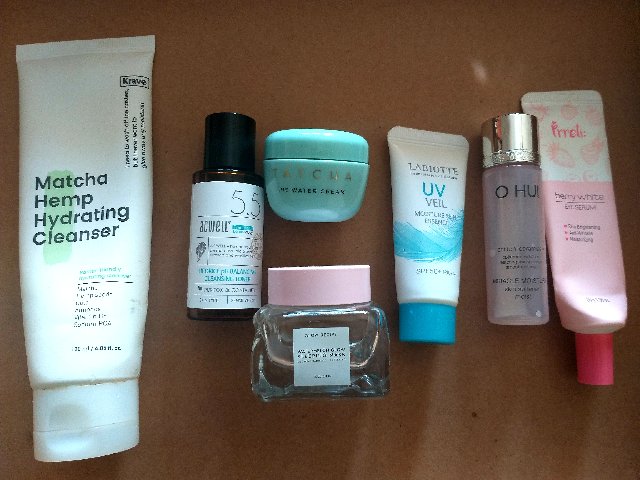 Krave Beauty Matcha hemp hydrating cleanser – this is such a nice cleanser and one of best Kbeauty cleansers I tried in a while. It has a jelly texture, little goes a long way. It is very gentle and yet very effective second cleanser. It doesn't foam a lot which I really like. It leaves the skin very smooth. It does need little bit more water splashes to wash it off, but it washes off completely and without any residue. I will repurchase.
Acwell licorice ph balancing and cleansing toner – this was my HG toner for quite a long time. However, due to the fact that it was difficult to find it online, I didn't use for more than a year. I was very happy I noticed these small 30ml bottles available at Ebay. I must admit I'm not so crazy about this toner anymore. I always use at the very beginning of my routines. I do not feel that boost of hydration I used to have from it and I do not feel that my skin is supple. I tested it both applying it with fingers and with cotton pads. I must say I currently prefer the application with cotton pads. I'm not sure if I will repurchase.
Tatcha The watery cream – I really like this moisturizer. When applied to the skin, you can instantly feel the burst of hydration. I feel like when it touches the skin, it turns into water and drenches the skin. It sinks in completely and perfectly leaving the skin very hydrated and soft. However, I must admit I'm not sure if I would spend 68$ for a moisturizer no matter how perfect it is. And it really is a perfect moisturizer.
Glow Recipe Watermelon sleeping mask – this is such a huge disappointment for me. Since everybody is raving and hyping this, I thought I would love it. However, I do not like it at all. Although its texture is rather thin and watery, it leaves a sticky feeling on the skin. No matter what routine I put under it, it is always pilling so in the morning I always have on my face a small bits of something that look like I forgot to remove the peel-off mask. The only thing I like about it is the scent. But since this is not a perfume, that's obviously not important. I will never buy it again.
Labiotte UV moisture veil spf50 (30ml) – I love this sunscreen. It's a gel with such a nice lightweight texture, it is easily spread and absorbed flawlessly. It contains some micro-granules that melt once they touch the skin surface. There is no white cast, the finish is not matte, but it leaves some fancy glow (not a greasy one). I used this on my no makeup days since its spf filters are different from my Missha bb cream ones, and they do not work well together. I will repurchase again.
Ohui Miracle moisture skin softener – this is milky toner that does exactly what its name says: it softens the skin for the application of next steps. I use it as first step of my routine when I do not use the first treatment essence. It makes the skin soft, supple and gives a dab of hydration. However, I prefer the fte, because they provide more hydration. I don't think I will repurchase this.
Prreti berry white eye serum – I used this in my morning routine. It provides such a nice hydration and relief to the eye area and brightens it. It works well under my bb cream, it does not pill. And the price I paid for this is ridiculous: 1,34 $ at Beautynetkorea! I will repurchase.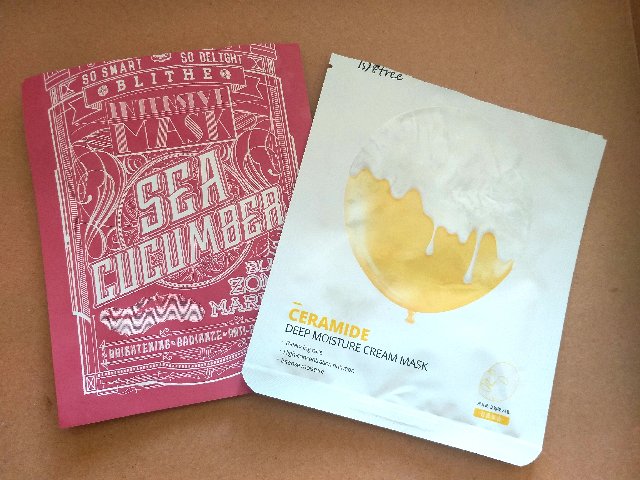 Last week I only used 2 sheet masks: Blithe Blue Zone Marine Intensive Mask Sea Cucumber and Isntree Ceramide Deep moisture cream mask. Neither one was anything extraordinary. Blithe's Sea Cucumber could be great sheet mask with real brightening effect and moisture it provides if only it weren't of that terrible scent.
I emptied:
1 cleanser / 1 toner / 1 moisturizer + 1 sunscreen / 1 eye cream / 1 sleeping mask.
Besides the empties I had, I gave as a gift 1 moisturizer (Tonymoly The Green Tea chok-chok).
February total: 7 empties + 2 sheet masks
So, at the end of February 2020, this is current status of my skincare stash:
20 cleansers
21 toner and mist
20 acid & active treatments
14 essences
18 serums / ampoules
4 emulsions
23 moisturizers and sunscreens
8 sleeping packs
11 facial oils
22 masks
5 eye creams and eye masks
117 sheet masks
I hope I will have more empties next time!
Till then, stay healthy and beautiful!