It has been clear to me for a while now that my hectic shopping sprees have to stop,  so I decided to stop buying skincare and makeup in 2020 (with some exceptions like cotton pads, makeup removers and similar items that cannot be found in my stash and that I need). 2019 was the year during which I spent significant amount of money on skincare, mostly Kbeauty, which is now everywhere in my house and you cannot put the needle in my skincare stash box. And trust me, it is not a small box, actually it is not a box, there are few boxes.
While in 2019, I was buying like crazy and I was exploring products, ingredients, in 2020, I will be emptying products and decreasing my humangous stash.
I'm a skincare addict, but most of all, I'm Kbeauty addict. Once you discover this fantastic world, there is no coming back. In this Kbeauty wonderland, you can find the variety of brands, products, textures, ingredients, packaging, colors like nowhere else and it keeps on growing every day and inviting you to keep exploring it. This no-buy will be a huge challenge for me, but if I succeeded to stop smoking, why would it be difficult for me to stop shopping. Right?
In order for you to understand how big this challenge is and why I have to stop hoarding skincare products, I will take you through my complete skincare stash. At the same time, this will be my inventory post. And, as you will see, I have quite a lot of both opened and unopened products.
I will post once a month Empties post and will do the inventory of skincare products to keep the record of the progress.
So, without further ado, meet my Precious 🤩
CLEANSING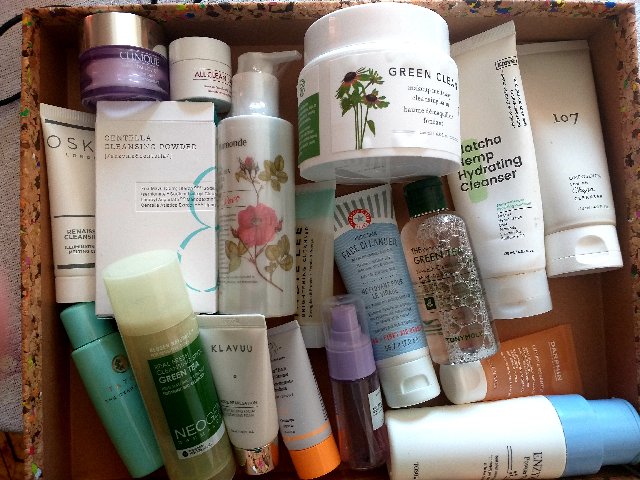 Open
Farmacy Green clean cleansing balm (maxi size), Glow Recipe Blueberry bounce gentle cleanser, Bobbi Brown cleansing oil (sample size), Eve Lom cleansing balm, Neogen Green tea cleansing stick, Krave Beauty Matcha hemp hydrating cleanser, Darphin Lumiere essentiel micellar cleanser (30 ml), Oneoseven Low ph chaga cleanser, Tosowoong enzyme powder, Cosrx low ph centella cleansing powder
Unopened
Indie Lee brightening cleanser (30ml), Oskia renaissance cleansing gel (35ml) , First Aid Beauty Pure Skin Face cleanser, Tatcha The Deep cleanse (50ml), Clinique Take the day off mini size (30ml), Drunk Elephant Beste No9 Jelly cleanser, Klavuu Pure Pearlsation Revitalizing Facial cleansing foam, Mamonde Petal Spa Oil to Foam, Heimish All clean balm, Tonymoly No-wash Cleansing water (100ml), Botanic Farm Grain Ferment cleansing sherbet
Total: 21 cleanser
TONERS AND MISTS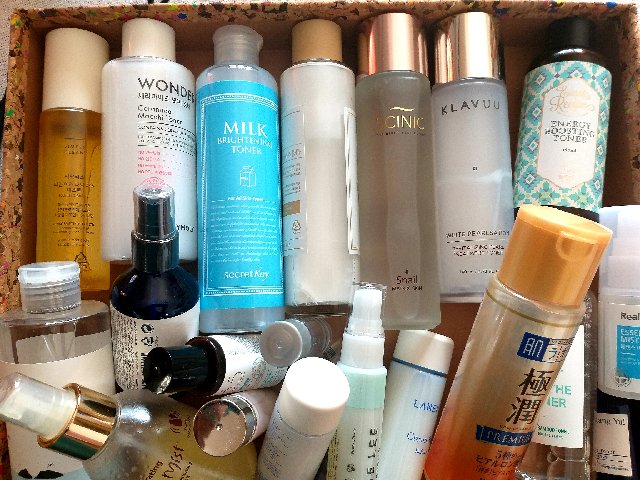 Open
Ohui Miracle moisture skin softener (20ml), Klavuu White pearlsation Revitalizing Pearl treatment toner, Earth's Recipe Energy boosting, Acwell 5.5 licorice (30ml), Ausome Rehydrating double mist, Secret Key Milk brightening, Primera Water Organience (15ml), Hadalabo Gokujyun premium lotion
Unopened
Pyunkang Yul mist toner, Keep Cool & Soothe Bamboo toner, Round Lab 1025 Dokdo, Indie Lee CoQ10 (30 ml), Scinic Snail Matrix skin, Rovectin Skin Essentials Activating Treatment Lotion 15ml x 2pcs, Sioris Time is running out mist, Real Barrier essence mist (30 ml), I'm From Rice toner, Tonymoly Ceramide Mocchi toner, Laneige cream skin refiner 30ml x 2pcs, Pyunkang yul Essence toner (20ml)
Total: 22 toners and mists 
ACIDS/ACTIVES (except hyaluronic acid)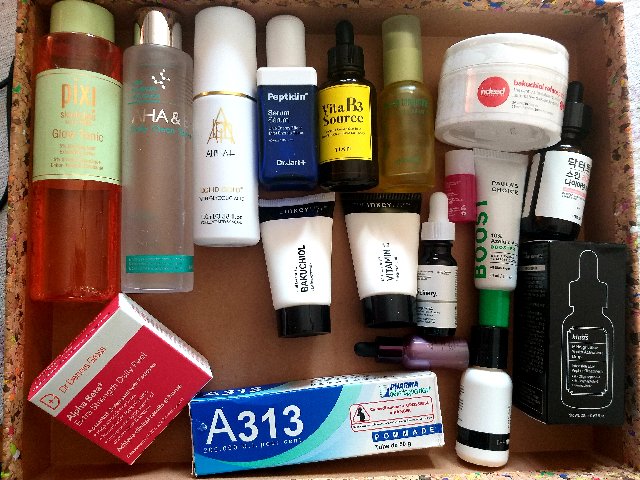 Open
Pixi Glow tonic, Mizon AHA/BHA toner, Alpha-H Liquid gold, Dr Dennis Gross Alpha Beta Extra strength daily peel (5-pcs packaging), Nooni Re-pair turnover peel pads, Tiam Vita B3 source (niacinamide + arbutin), Dr Jart Blue Peptidin, Tonymoly Bio ex Cell Peptide ampoule, A313 Vitamine A pommade, Goodal Green Tangerine Vita c dark spot serum, Bioderma Matricium
Unopened:
Sidmool Dr Troub niaten, Klairs Midnight Blue Youth Activating Drop, The Inkey List Vitamin C, Paula's Choice 10% Azelaic acid booster, The Inkey List Bakuchiol, The Inkey List Q10, The Ordinary Pycnogenol 5%, Indeed Labs Bakuchiol reface pads, Missha Time Revolution Night Repair Probio ampoule (10ml)
Total: 20 acid / actives 
ESSENCES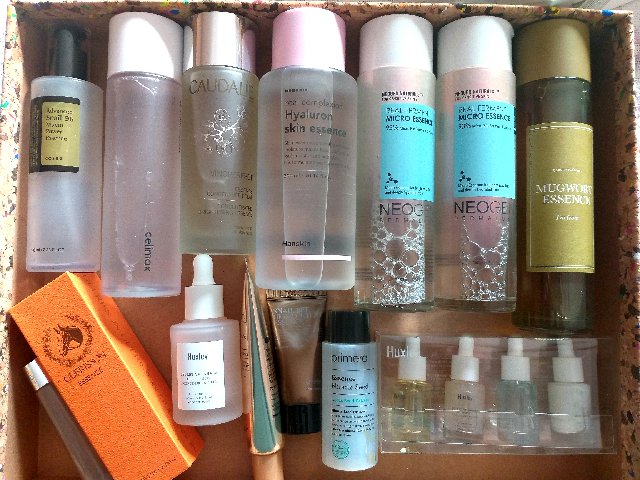 Open:
Cosrx Advanced snail 96 mucin power essence
Unopened:
Neogen Real Ferment micro essence (2 bottles), Hanskin Real complexion Hyaluron skin essence, Caudalie Vinoperfect Essence concentree eclat, Tonymoly Prestige jeju snail essence, Huxley Secrets of Sahara Oil Essence, I'm From Mugwort, Celimax The Real Sedum Aqua boosting essence, Guerisson essence, Primera Essence Miracle seed, Missha Time Revolution The first treatment essence RX 30ml, Benton Snail Bee High Content essence (15ml), Huxley Set of 4 mini essences
Total: 14 essences
SERUMS/AMPOULES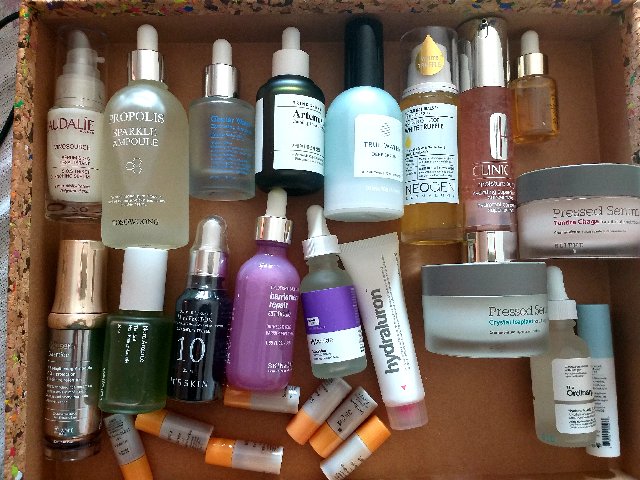 Open
A'pieu Glacier water hydrating ampoule, Dr Ceuracle Royal Vita Propolis ampoule, The Plant Base Quesera ceramide, Clinique Moisture surge hydrating supercharged concentrate, Blithe Tundra Chaga pressed serum, Drunk Elephant B-Hydra Intensive Hydration serum (8ml)
Unopened:
Bring Green Artemisia Calming Intensive serum, Neogen Serum in oil drop White truffle,  Skin & Lab Barrierderm Repair ampoule, Thank You Farmer True Water Deep serum, Caudalie Vinosource serum S.O.S. desalterant, Blithe Crystal Iceplant pressed serum, It's Skin Power 10 formula LI effector, The Ordinary Hyaluronic acid 2% + B5, Celimax Noni ampule, Indeed Labs Hydraluron, Tosowoong propolis sparkle ampoule, Hylamide SubQ skin advanced serum, CNP Green propolis anti-oxidant ampule 5ml
Total:  18 serums/ampoules
UPDATE FROM February 28th: I misplaced one moisturizer and an ampule, so I did not include them in my stash inventory. It is CNP Green propolis anti-oxidant ampule 5ml. So the new total is 18 serums/ampoules.
EMULSIONS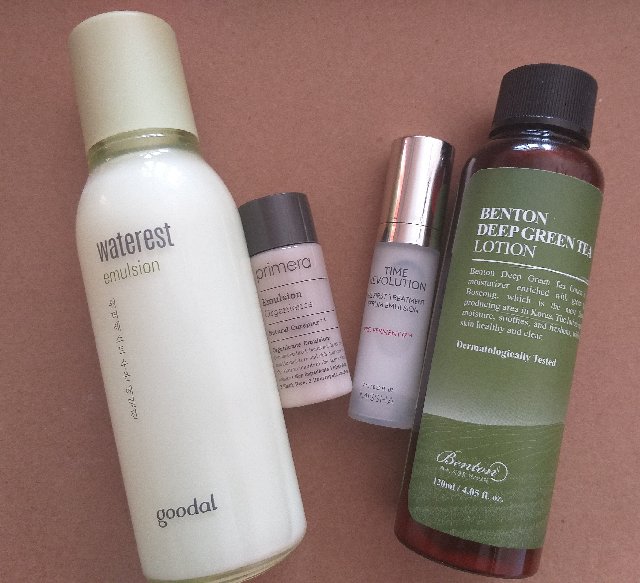 Open
Goodal Waterest emulsion, Benton Deep Green Tea Lotion
Unopened
Primera Organience emulsion, Missha Time Revolution The first treatment serum emulsion
Total 4 emulsions
MOISTURIZERS AND SPF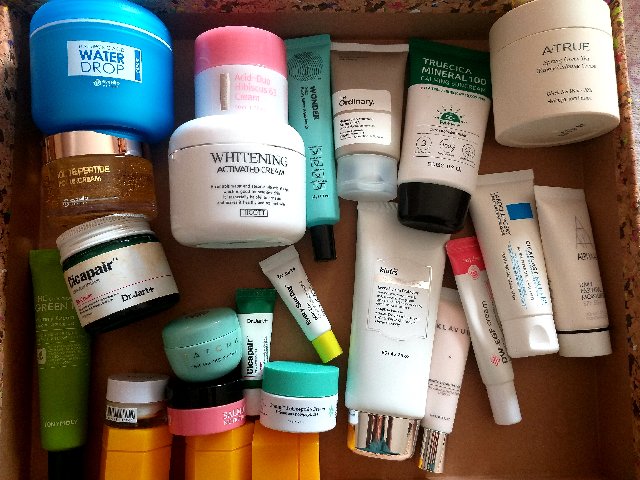 Open
Tatcha The water cream 10ml, Haruharu Wonder Honey Green Aqua cream, Dr Jart Cicapair Derma Green solution Re-Cover, Easydew  DW-EGF cream, La Roche Posay Cicaplast Baume B5, Klairs Soft Airy UV Essence, Labiotte UV Veil Moisture sun essence spf50 20ml
Unopened
Atrue Spring Green Tea watery calming, Elemis Pro-collagen marine cream, Eyenlip Hyaluronic acid water drop, Eyenlip 24k gold & peptide ampoule cream, Jigott whitening activated cream, Huxley Secrets of Sahara Anti-gravity cream (7ml), Tonymoly chok-chok The green tea watery cream, The Ordinary Natural Moisturizing Factors + HA, By Wishtrend Acid-Duo Hibiscus 63 cream, Some By Me True Cica Mineral 100 calming sunscreen, Drunk Elephant Protini Polypeptide cream 15ml, Missha Time Revolution Night Repair Probio Ampoule cream 7ml, Eyenlip Salmon oil nutrition cream 15ml, Banila Co Miss Flower & Mr Honey cream 7ml x 3 pcs, Dr Jart Cicapair Derma green solution cream, Alpha-H Daily Essential moisturizer spf50+, Klavuu White pearlsation Ideal Actress Backstage Cream spf30 10ml, Dr Jart Every Sun Day Mild sun spf43 5ml, Illiyoon ato ceramide concentrate cream.
Total 26 moisturizers and spf creams
UPDATE FROM February 28th: I misplaced one moisturizer and an ampule, so I did not include them in my stash inventory. It is Illiyoon ato ceramide concentrate cream. So the new total is 26 moisturizers and spf creams
SLEEPING PACKS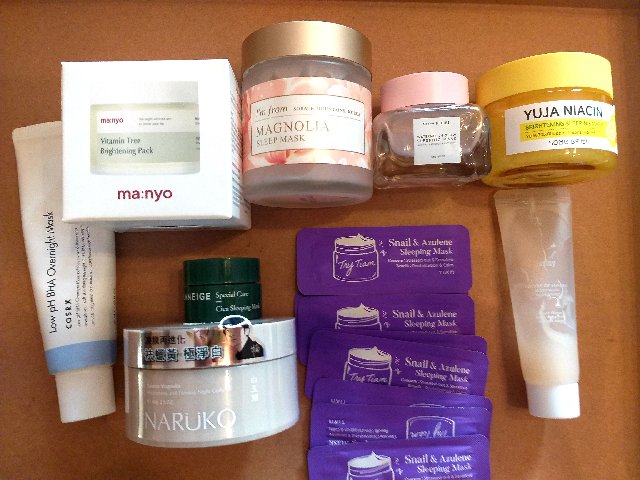 Open
I'm from Magnolia, Glow Recipe watermelon glow, Cosrx low ph BHA overnight mask, Huxley Secret of Sahara sleep mask, Laneige Cica sleeping mask 10ml, Tiam Snail & Azulene sleeping mask in pouches
Unopened
Some By Me Yuja Niacin brightening sleeping mask, Manyo Vitamin Tree brightening pack, Naruko Taiwan Magnolia Brightening and Firming night jelly
Total 9 sleeping packs
FACIAL OILS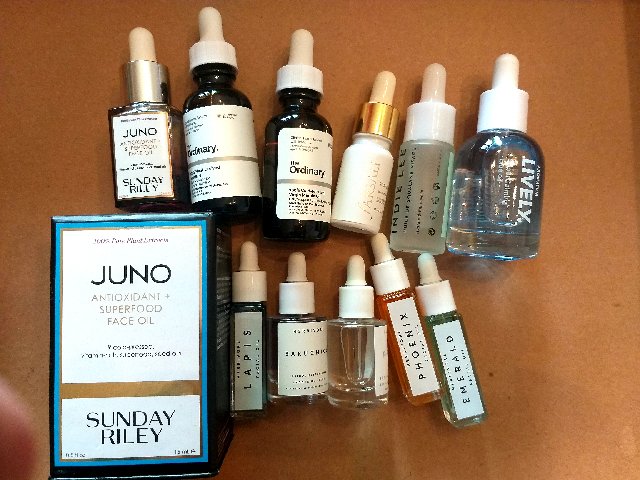 Open
Sunday Riley Juno
Unopened
Farsali Rose gold elixir, The Ordinary 100% plant derived squalane, The Ordinary 100% Marula cold-pressed virgin oil, Indie Lee squalane,  Lively Super calming blue oil, Herbivore set of 5 oils
Total: 11 facial oils
WASH- OFF MASKS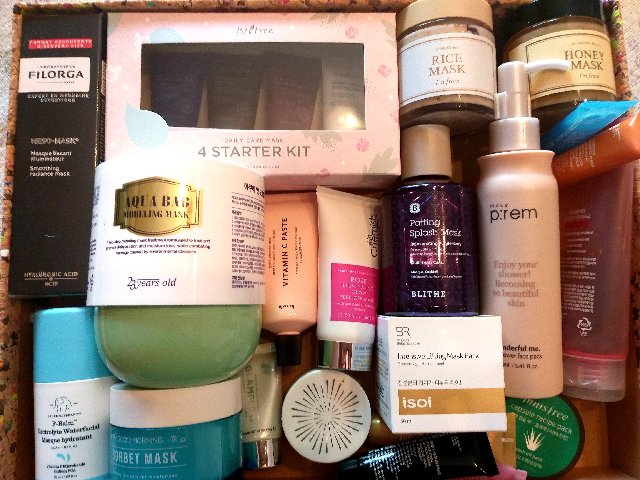 Open
Isntree Real Rose calming, I'm from Honey, I'm from Rice, Oskia Renaissance, Peter Thomas Roth Blue Marine Algae Intense hydrating 14ml, Peter Thomas Roth Pumpkin Enzymatic 14ml, Glamglow Supermud clearing tretment 15g, 23years old Aqua bab modeling mask (4pcs set), Starskin VIP 7-second luxury all-day mask
Unopened
Mediheal Masking Layering Ampoule Exceltoning shot (set of 3), Make P:rem Wonderful me in-shower face pack, Blithe Patting Splash mask Rejuvenating purple berry, Lixirskin Vitamin C paste, Skin Chemist Rose Illuminating glow peel off mask, Filorga Meso-mask, Drunk Elephant F-Balm Electrolyte Waterfacial, A'pieu Good morning sorbet mask, Isoi Intensive lifting mask pack, Peter Thomas Roth Rose stem cell Bio-repair 14ml, Peter Thomas Roth 24k gold mask 14ml, Peter Thomas Roth Irish Moor Mud purifying black mask 14ml, Innisfree Capsule recipe pack
Total 22 masks
EYE CREAMS AND EYE MASKS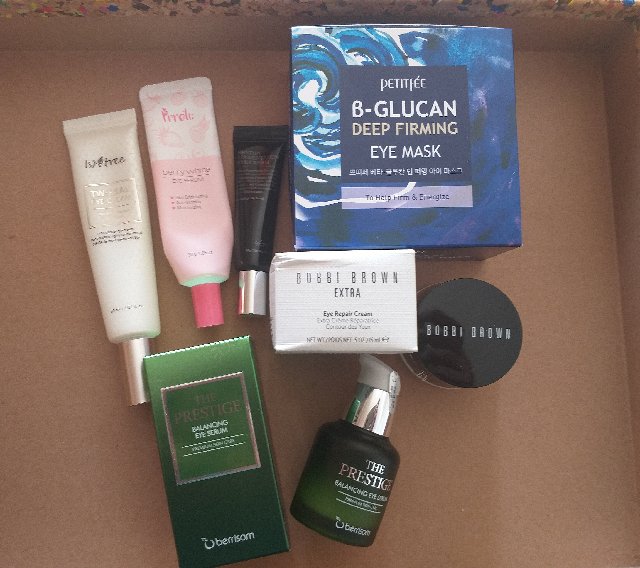 Open
Isntree TW-Real eye cream, Prreti berry white eye serum, Petitfee B-Glucan deep firming eye mask
Unopened
Bobbi Brown Extra repair cream, Benton Fermentation eye cream, Berrisom The Prestige Balancing eye serum
Total 6 eye creams and eye masks
SHEET MASKS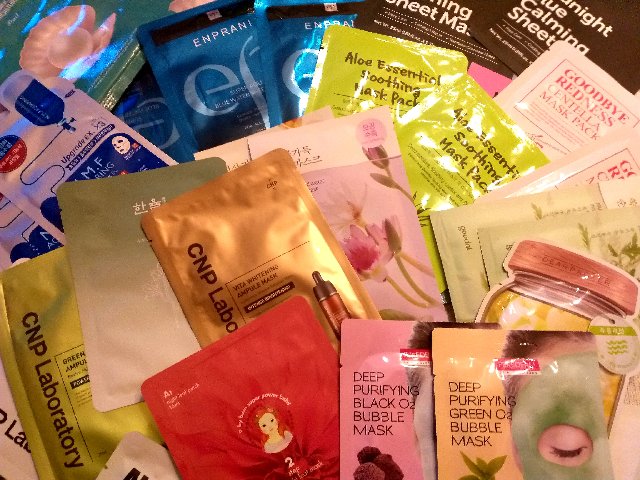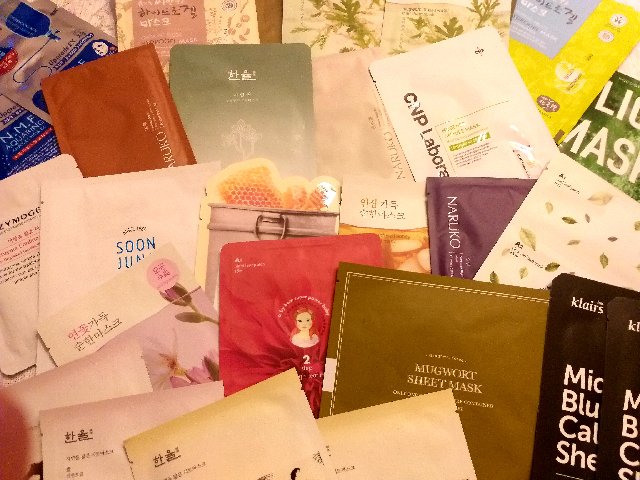 Total 119 sheet masks
Here is the summary of my cosmetic stash:
21 cleanser
22 toners and mists
20 acid & active treatments
14 essences
18 serums / ampoules
4 emulsions
26 moisturizers and sunscreens
9 sleeping packs
11 facial oils
22 masks
6 eye creams and eye masks
119 sheet masks
So, I basically made the inventory of complete stash, from small items of 5ml to full size products.
As you can see I have a huge job in front of time. And when I see the stash, I think that no-buy regime will continue in 2021.
Till next time, stay healthy and beautiful!