Hello everybody!
Last week I tried just for fun 7-days sheet mask challenge. I usually do not do this kind of stuff, but when I came across this challenge with sheet masks, I thought it could be beneficial for my skin, but also for my stash decrease project.
I didn't choose in advance which masks I would be using. I decided that I would choose them along the way according to the needs of my skin. I only decided that I would not use the same sheet mask throughout whole challenge.
DAY 1 – THANK YOU FARMER True water deep cotton mask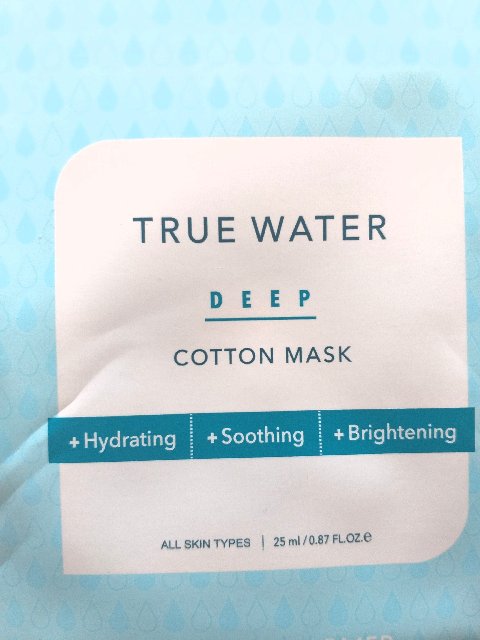 On the first day of challenge, I used Thank You Farmer True water Deep cotton mask. This was the second time I used it (I bought the box of 5 pcs). The mask is well soaked, hence it is a bit complicated to unfold it. There is not a lot of remaining essence in the packaging once you remove the mask. The essence itself is more on a jelly, than on a watery side. A light floral scent is present, however it is not overwhelming.
The mask is made of cotton, the cut fits just fine my face although the eye openings seemed small.
According to the manufacturer, this mask is supposed to hydrate, soothe and brighten. 
I kept the mask on for 30 minutes, it started to dry a bit on the forehead and on the cheeks. When I removed the mask, I felt like my skin got a nice dose of moisture with a bit of nourishment. I notice a certain brightening effect, but nothing dramatic. This is really a basic, but still very nice sheet mask.
DAY 2 – TOSOWOONG Dr Troubex sparkling mask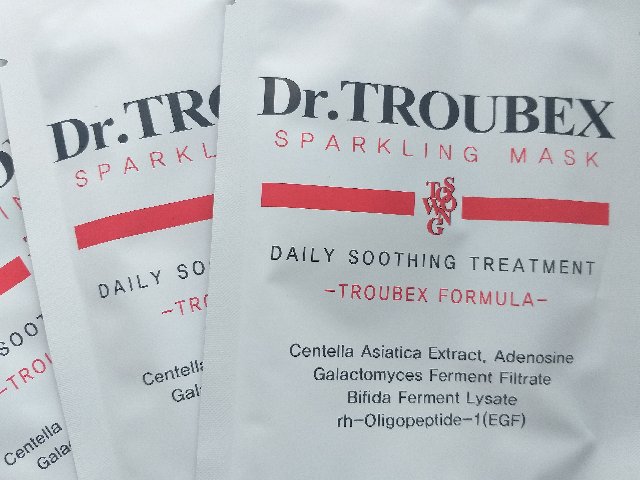 I have already used this sheet mask 2 or 3 times and it amazes me each time I use it. This one goes into my wow group (I keep on repeating wow when I remove these masks 😁).
It is really well soaked in the essence. Besides the beneficial ingredients like centella asiatica, some antioxidants (Bifida Ferment Filtrate, Galactomyces Ferment Filtrate) and EGF, this mask is infused with the sparkling water (carbonated). Thus, with the remaining essence you can treat your elbows, hands or use it as an essence few days after the application. The material is very thick, not elegant, but still feels very nice. The fit is very wide, but still ok.
I kept the mask for maybe 20 minutes, but then I had to remove it since it was drying fast. The skin is hydrated, soft, plumped, soothed, very brightened and exactly what the name of the mask pretends: really sparkling. And what is also great, it is still sparkling even the next day. I love it!! And I'm so happy I still have a stash of this mask.
DAY 3 – MAY COOP Raw sheet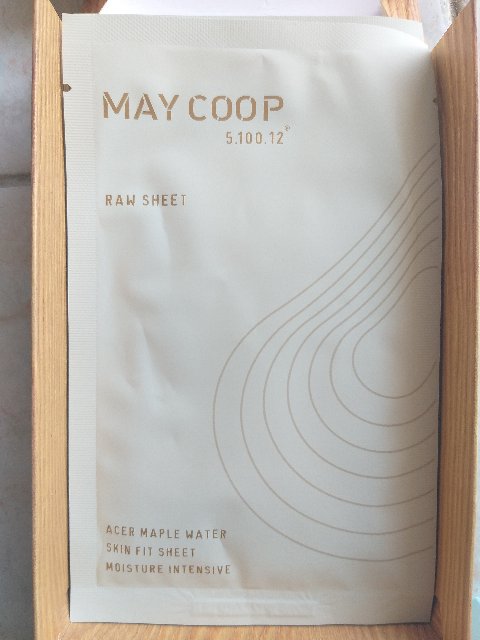 May Coop Raw Sauce is one of my favorite Kbeauty products and a great multi-tasker, so I had to try these sheet masks. This mask is very thin and has plastic support for easier handling. It is well soaked in the essence and there's a lot of it in the packaging. I put the compressed sheet mask in the remaining essence. 
The mask is made of thin unbleached cotton which adheres perfectly to the skin and is almost invisible on the face. 
I kept it on for 30 minutes and I could have left it for a bit longer. The mask delivers nice hydration, cools the skin and makes it soft. It is perfect choice for masking during the summer.
DAY 4 – SHINGMULNARA Natural delight mask Honey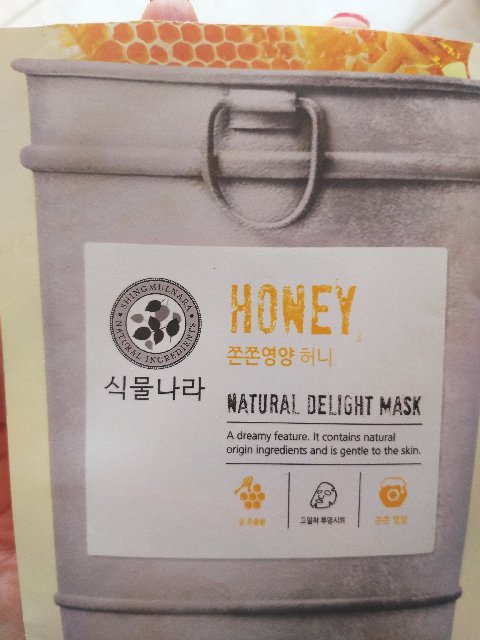 This was the first time I tried this mask. It is well soaked, but there is almost no remaining essence in the packaging. The mask is very thin and adheres nicely to the skin. It is almost invisible when you put it on. The fit is nice, the only thing I didn't like were the eye openings, but this can be fixed by cutting into the mask. And one thing that mesmerized me is the scent. It is absolutely divine and makes this masking experience even better. It is the same scent that you can find with Papa Recipe honey mask (yellow one).
I removed the mask after 30 minutes. The skin was nourished, soft and supple, glowy, healthy and what is very important, there was no sticky residue which is common for lot of products containing honey. This is yet another one which can be put in the wow group. A big thumb up from me!! And I will certainly repurchase.
DAY 5 – KLAIRS Midnight blue calming sheet mask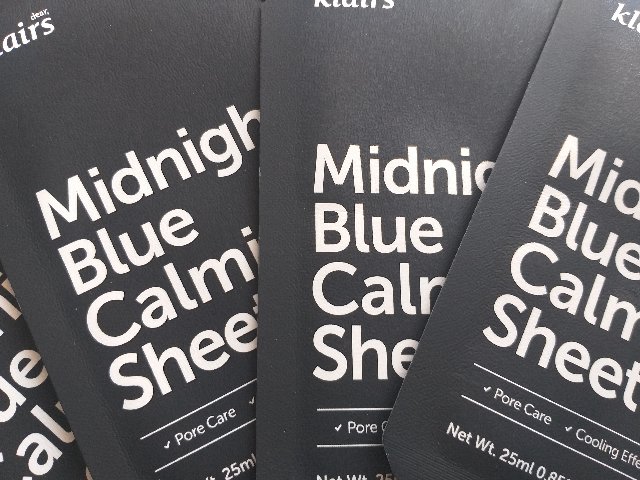 This is one of my favorite sheet masks. It is a 2-piece sheet mask and is a bit complicated to handle it.  The difference between this mask and the other is that it is completely black and this is due to the fact that is made from bamboo charcoal which should draw out impurities from pores. There is lot of remaining essence in the packaging. This is soft rayon mask and feels nice on the skin.
It is well soaked and I kept it for around 30 minutes. It is really  soothing, hydrating and it calms any redness that you might have. 
DAY 6 – A by BOM 2step Ultra leaf sheet mask
This was the first time I tried this mask and I really loved it. It is a 2 pieces set composed of regular sheet mask and 4 leaf shaped smaller sheets. First you put the leafs on the spots that need some additional hydration and then you put the sheet mask on. The material is very nice and feels great on the skin. The set has such a nice fresh leafy scent that kind of envigorates the senses. It is really a plausible scent.
I kept the mask for 30 minutes and it didn't dry out completely. It really delivered a great hydration boost to the skin and the skin looked really plumped and bouncy. I loved the overall masking experience and will repurchase for sure this mask!!
DAY 7 – TOAS Miracle laser mask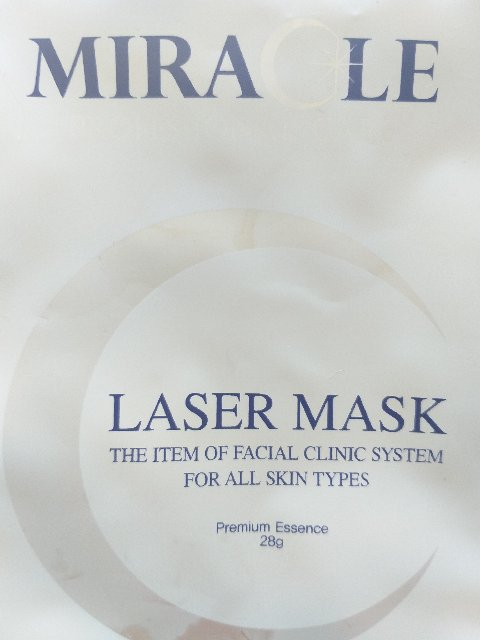 This was the first time I tried this mask and also loved it. The mask is well soaked, but it is not a problem at all to unfold it. However there is almost no essence left in the mask packaging. The material is little bit thicker, but still feels very nice on the skin. The mouth and eye openings fit me well. I kept the mask for around 30 minutes. I really liked this one since I felt my face was really nourished and moisturised (I would say that is more on a nourishing side, than on a hydrating one). The skin feels really bouncy and plump. 
OVERALL CONLUSION
After 7 days of sheet masking, I can say that overall experience is nice. The skin is well hydrated, bouncy and has a really nice, healthy glow. However, I cannot tell that my skin got more benefits from this weekly treatment, than what it would have gotten from occasional use of sheet masks that I normally practise. Also, besides sheet masks which I used in the night routine, I also used some wash-off masks on a few occasions in my morning routine, so this also attributed to the overall feeling.
However, I'm sure that lots of you (if anyone is reading what I'm writing) is also concerned for the quantity of waste the use of sheet masks produces. And trust me, so am I. I decided that once this stash decrease project is over, I will definitely buy much less sheet mask that I used to do before.
Do you use the sheet masks and if yes, how often?
Till next time, stay healthy and beautiful!