Hello everybody!
I'm here with the latest update of my skincare stash decrease project I started in February. Honestly, I thought I would be more efficient in emptying my stash than last month, but I wasn't and only have few empties this time.
So, without further ado, here are my latest empties: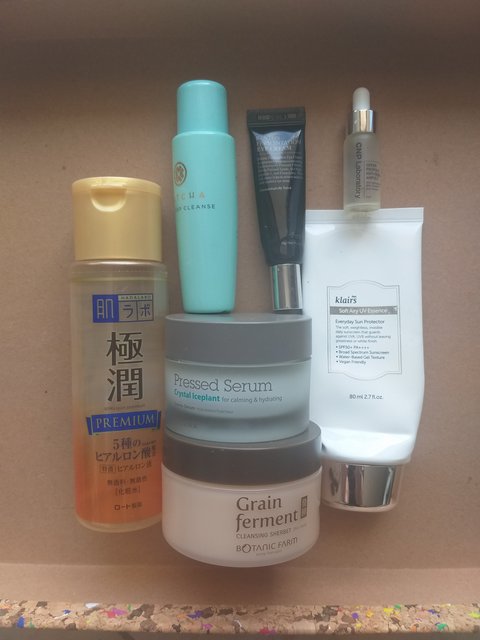 Botanic Farm Grain Ferment cleansing sherbet – Although I liked this balm cleanser at the very beginning, the more I used it, the less I liked it. It has a nice texture that melts easily and is very pleasant to use, but it is not as effective as I hoped it would be. It wasn't removing my makeup completely as other cleansing balms did.  I will not repurchase.
Tatcha The Deep cleanse – When I opened this cleanser, I had in mind to apply it each day as a 2nd cleanser in my night routine, However, when I started to use it, I ditched that idea due to the fact that this cleanser contains some beads that reminded me of a scrub. Although this is really mild cleanser and it didn't cause any dryness or irritation, I didn't want to use it every single day just because of those beads. The cleanser is otherwise great, very effective, pleasant to use, it is easily washed off, doesn't sting the eyes, a little goes a long way. It is not foaming a lot, it turns into a nice emulsion that gently cleanses the skin. I really loved this cleanser so I will probably repurchase it.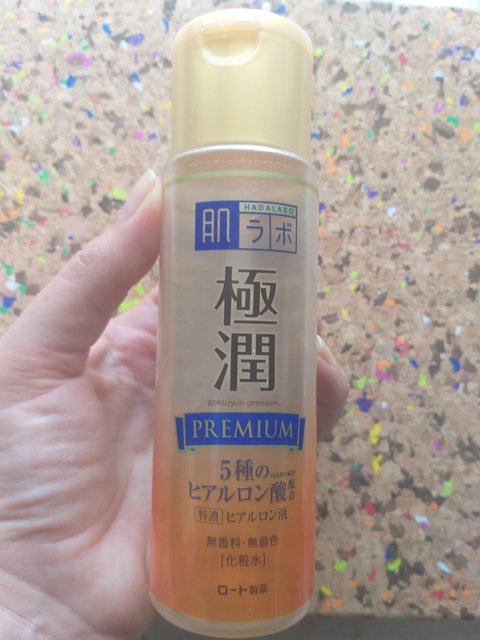 Hada Labo Goku-Jyun Premium lotion – this hyaluronic acid lotion (Japanese word for toner) is one of my favourite products in general. I think this is my 3rd bottle and basically it was and is my companion throughout my Asian beauty journey (almost since the beginning). The first one was Kohaku hada lotion. Hada Labo is perfect hyaluronic lotion. It is not watery, it is more like a lightweight gel that sinks in the skin fast and leaves no residue what so ever while perfectly hydrating the skin, making it plump and healthy. I paired this lotion with Keep cool and soothe bamboo toner and sandwich it under Scinic Matrix snail skin. It was a perfect combo!! I don't have to mention that is really an affordable product since you need only few drops for one application and the bottle lasts forever, around a year or even longer. I will definitely repurchase.
Blithe Crystal Iceplant pressed serum – Unlike his more powerful "brother" Tundra Chaga pressed serum, this serum cannot replace two products in my routine. However, I still love this serum. It provides delightful, lightweight, hydrating care for my skin and it is a perfect summer serum due to its gel like texture. Depending on the needs of my skin, sometimes I applied a thinner and sometimes a thicker layer so I managed to empty this jar in 2 months. It sinks in fast and flawlessly without leaving a sticky or tacky residue. I was applying this serum in my morning routine before a sunscreen. It didn't pill of my face or didn't cause the pilling of my spf. I will repurchase for sure.
Benton Fermentation eye cream – I got this eye cream in Iherb Kbeauty discovery bag. Although it has nice fluffy, light texture, it wasn't so easy to handle it / massage it. I really had to do some effort to rub it in. It was really a bit weird feeling. Otherwise, it is pleasant, hydrating. I cannot tell if it works for wrinkles or lines, since I didn't have it for a long time. I do not think I will repurchase it.
CNP Green propolis ampoule – I must say that I didn't like at all the texture of this propolis ampoule which is really thick. When you combine this thick texture and the pipette that comes with the product, you obtain the terrible combo. It is almost impossible to dose this ampoule with it. This ampoule nourishes nicely the skin, but leaves a sticky, tacky residue on the skin, which doesn't disappear for quite a while. I wouldn't repurchase a full size product.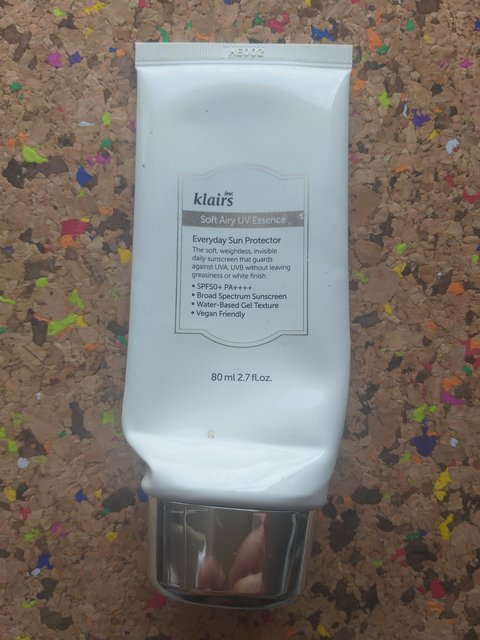 Klairs Soft airy uv essence spf50– This is one of my favourite sunscreens. It is great spf cream with chemical filters. It is not greasy, it sinks in completely and flawlessly so I use it both as a last step of my routine on my no makeup days, but also under my makeup. It works great with my Missha Perfect cover bb cream. I have already repurchased a backup.
In July I emptied: 2 cleansers / 1 toner / 2 serums / 1 sunscreen / 1 eye cream
I used only 4 sheet masks, so the stash didn't change a lot.
July total:  7 empties + 4 sheet masks
Yearly total: 52 empties + 32 sheet masks
I purchased again some things, mostly sunscreens: The Inkey List Retinol eye cream, Klairs Soft airy uv essence spf 50, Shiseido Anessa Perfect sunscreen milk spf50 (20ml) and Supergoop Unseen sunscreen spf30 (15ml).
So, at the end of July 2020, this is current status of my skincare stash:
13 cleansers
17 toners and mists
22 acid & active treatments
14 essences
10 serums / ampoules
3 emulsions
24 moisturizers and sunscreens
5 sleeping packs
10 facial oils
18 masks
4 eye creams and eye masks
91 sheet masks
Till next time stay healthy and beautiful!