I'm here again with another post about all the products I introduced to my skincare routine during past month.
If you're curious about the products I have introduced recently (last few months), you can click here for April and May.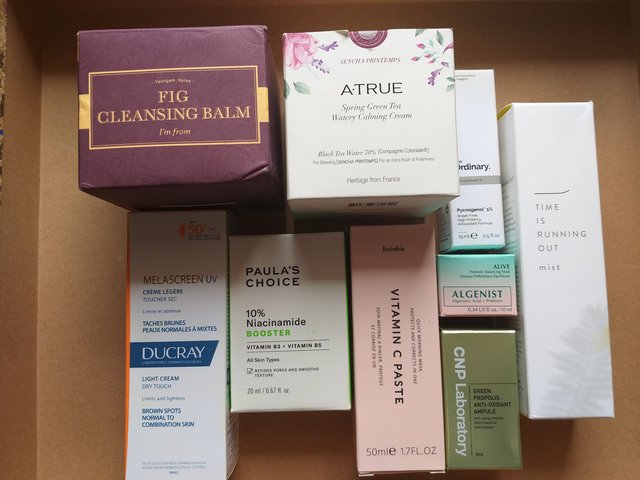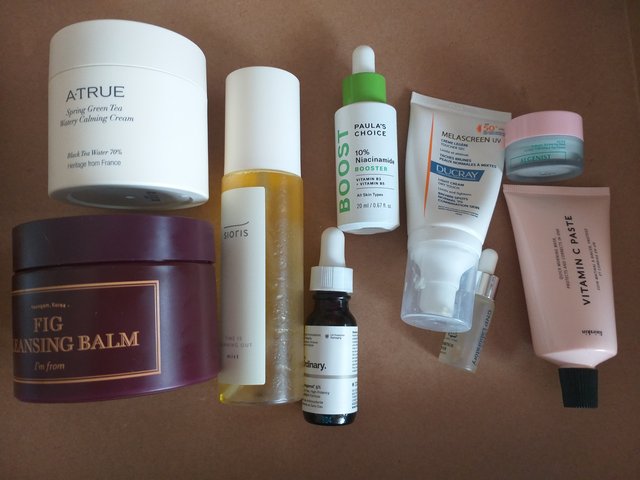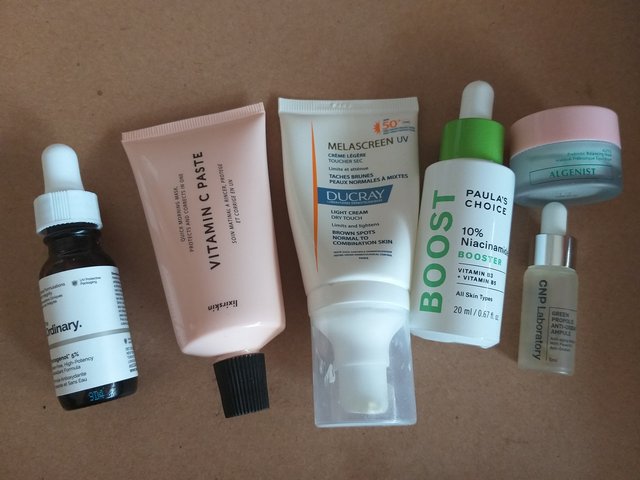 Algenist Alive Prebiotic balancing mask – I got this mask in my SpaceNK birthday gift. It is fun to use as its colour changes from pale baby blue to pale pink once you start massaging it in the skin. Some people say it is gimmicky, I say it's fun.  As far as the effect of this mask goes, it feels on my skin as every other clay mask. My skin feels and looks purified, brightened and healthy. Although the packaging I got is really small, I will have it for at least 5-6 applications since a little goes a long way.
The Ordinary Pycnogenol 5% – Besides the vitamin C, I'm always searching for some other anti-oxidant, so this serum was a logical choice. I use it in my morning routine, but I do not skip the vitamin C when using the pycnogenol. Although there is no oil in it, this serum is kind of oily, but is absorbed very quickly in the skin and makes a perfect canvas for the application of sunscreen (I currently rotate Klairs Soft airy uv essence and Ducray Melascreen). It has a dark, red colour, but does not stain the skin. It has a little funky smell that reminds me of vinegar.
Ducray Melascreen spf50 light – I always like to have 2 or more sunscreens in my routine. I tend to use this sunscreen on my no makeup days. It is heavier than my Klairs Soft airy uv essence, but still it feels nice on the skin and is well absorbed. It leaves a little bit of white cast at first, but this disappears quickly. I have also used it few times under my bb cream, and it didn't cause my makeup to glide off my face. I like it so far.
I'm from Fig cleansing balm – this was the first item I ordered from South Korea after long hiatus (long time in my shopping terms is 3 months). As mentioned in my Stash decrease project post, I'm on a nobuy, but also due to the pandemics I do not have access to any Kbeauty sellers since they do not deliver the packages to my country for the moment. I was happy like a child who got his long yearned toy when I received this cleansing balm. I like it so far. It looks a bit heavier and greasy, but once I rub it in my palms and heat it, it melts nicely. It is efficient, removes well the makeup and spf. It does blur my eyes a bit, but this disappears quickly.
Atrue Green tea watery calming cream – This moisturizer is the first product I have tried from the brand Atrue. It is really nice, light cream and perfect choice for summer moisturizer. The texture is not thick and it sinks nicely in the skin. It provides nice moisture. I use it mostly in my night routine as a last step.
Paula's Choice 10% niacinamide booster – The niacinamide is one of the most important parts of my skincare routine. I use it every day in my night routine as a first step after cleansing. I usually buy Kbeauty niacinamide serums, but since I cannot order anything from S Korea for the moment, I'm currently testing western ones. After I tried Garden of Wisdom niacinamide (I talked about it in my last Empties), I finally opened Paula's Choice one. Its watery consistency is perfect for my skincare routine. It is not drying or irritating. It sinks fast and perfectly in the skin. I love it so far.
CNP Green propolis ampoule – I love good propolis serum and always have one in my stash and in my routine. This CNP is on a thicker and little bit stickier side. Because of its consistency, it is really difficult to handle it / dose it with the pipette it comes with. I will go through it fast since this is a 5ml sample.
Sioris Time is running out mist – This was the love at first spritz! I just love, love, love this mist. It it biphasic mist that contains oils for nourishing, but it feels so light and refreshing on the skin. And the smell is divine! It doesn't smell of essential oils as some mists do. This scent is really unique and beautiful, but since I'm really bad in describing the scents and perfumes, I will let you discover it yourself. I use this mist in my morning routine, under my hyaluronic acid toner and they play great together.
Lixirskin Vitamin C paste – I had this paste for quite a while in my stash so I was a bit worried that it would go bad which can happen often with products containing vitamin C, but to my great pleasure this was not the case this time. I expected something much thicker, since it is called a paste, but don't let the name fool you. It is nice gel mask which really easily spread. The thing I really like about this product that it doesn't require a lot of time to work. I leave it for maybe 2-3 minutes and wash it off. And the first application really blew my mind away, because the shine it gave to my skin was so insane. This shine was reduced a bit with the further application, but I still shine bright with this mask (I'm listening an old Rihanna's hit as I'm writing this). And I didn't experience any reaction (tingling, burning, redness). The only thing I don't like is the scent (I have to admit that it stinks), but this funky scent disappears quickly. Otherwise, it wouldn't be a pleasant masking experience at all. Anyhow, I like this mask.
What did you introduce to your routine lately?
Till next time, stay healthy and beautiful!