This is my 3rd post in the series of posts about newly opened products. If you're interested in the products I opened last months, click for March and April.
As mentioned before, I'm on a nobuy, so I do not have any hauls to share.
I have a nice share of opened products since I was really diligent in emptying skincare in May. I try not to open too much before emptying some similar skincare items.
So, without further ado, these products found their way to my skincare routine during May: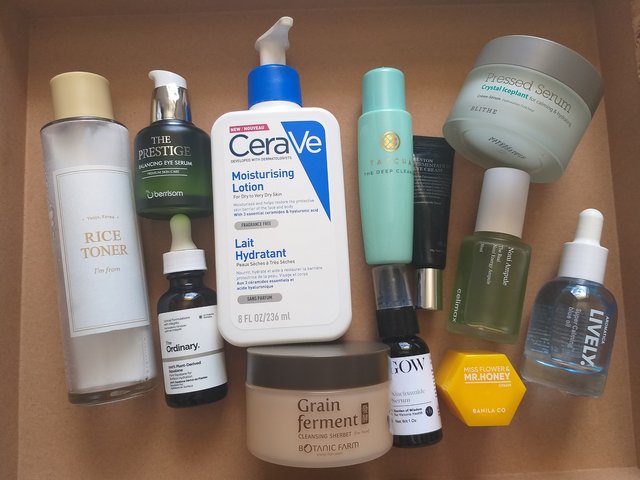 I'm From Rice toner – I have already used this toner last year. It is packed with 77,78% of rice extract and promises the brightening and moisturizing effect on your skin. It is lightweight, sinks in quickly and feels very nice on the skin.
Tatcha The Deep Cleanse – I opened this gel cleanser having in mind that I would use it on a daily basis as a second cleanser. However after the first test, I decided to use it only few times a week because of the fact that it contains some exfoliating beads. These are not harsh in any way, but I do not use anything on a daily basis that resembles to exfoliating products. Otherwise, this is a nice gel cleanser, a little goes a long way, it is effective, not drying, rinses off nicely.
Berrisom The Prestige Balancing eye serum – when buying this serum, I had an idea to use it only in my morning routine, in place of an eye cream. This is lightweight eye serum, it has a jelly texture that is spread so nicely, sinks in beautifully and completely. It hydrates the eye area, works well under the spf and bb cream, it doesn't pill. I like it so far.
Benton Fermentation eye cream – Although I have read lots of raving reviews for this eye cream, I have never thought of purchasing it until I got it in my Iherb Kbeauty bag few months ago. It has a light texture, I would say airy, but the application is little bit complicated. I do not get to massage it easily, sometimes I feel like I have only spread it around my eyes. I really have to work it in before it begins to absorb. Although it is light, I do not feel that it is hydrating enough. I use it in my evening routine.
Banila Co Miss Flower & Mr Honey cream – I have to admit that I'm kind of emotional about this moisturizer since it brings me back to my Kbeauty beginnings. When I started to explore Kbeauty back in 2014/2015, this moisturizer was one of the highly raved Kbeauty products and I wanted to try it so bad. However, the price of full size was pretty high and there were no samples available. Meanwhile, I forgot about this moisturizer, but when I saw the set of 3 mini-size jars, I simply couldn't resist to buying it. I have only used for few times, but I like it so far. The texture of this moisturizer is kind of waxy but it melts nicely when you massage it in the skin and is absorbed nicely without any sticky or greasy residue. It is moisturizing and calming. What I also like about this moisturizer is the scent. It smells like one of my favorite sheet mask Papa Recipe honey. I was so afraid that this product would disappoint me after so many years, but it didn't.
Cerave Moisturizing lotion 200ml – I must admit I'm a little bit sceptical when a product is being advertised as face and body product and that's why I was hesitant for quite a long time to buying this lotion. However, when a friend of mine sent me a small jar to try it, I was really pleasantly surprised by its performance. This is really a basic product, but it provides such a nice and deep hydration and some moisture, but also calms the skin. It has 3 types of ceramides and as thus, besides moisturising, it should be beneficial also for your skin barrier. I apply it in both my morning and evening routine whenever I want to add some moisture.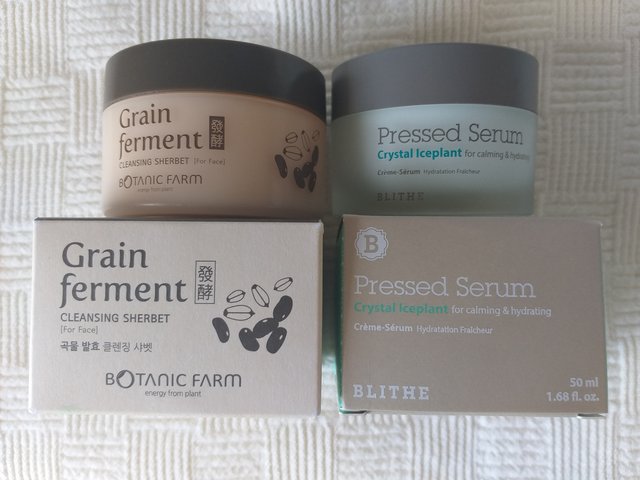 Botanic Farm Grain Ferment cleansing sherbet – This is nice cleansing balm. Its texture is very soft and breaks down in oil very quickly. When I introduced it in my routine, I thought that it broke me out, but it seems that it was only due to my PMS. However, I have some doubts about its efficacy when it comes to removing the makeup, but I do not wear it often lately and will have to test it again.
Blithe Crystal Iceplant pressed serum – Since I really enjoyed using Blithe Tundra chaga pressed serum which I emptied lately, I was very curious about this one and hoped that it would be the same skincare treat. My first impressions do not feel like this is going to happen. This pressed serum has a texture of gel moisturiser and promises to hydrate and soothe the skin. It is lightweight serum, not similar in any way to Tundra chaga pressed serum. It sinks in quickly and completely and hydrates the skin. It is pleasant to use, soothes and cools the skin, but other than that for the moment, I do not see any additional benefit (I have been using for maybe 10 days in my morning routine). Obviously due to the texture, it is perfect choice for the upcoming summer season.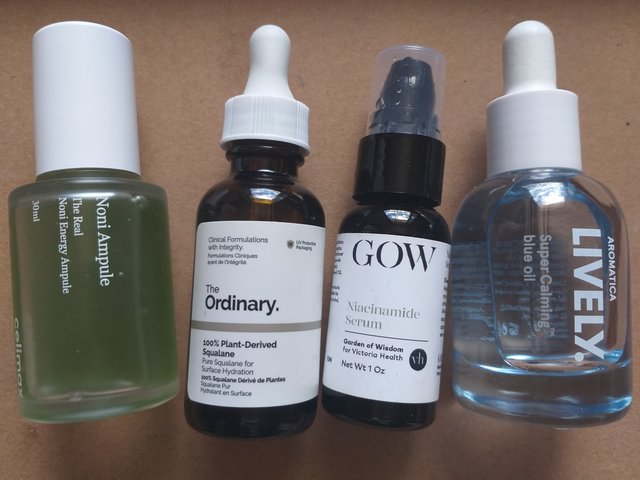 Celimax The Real Noni energy ampoule – this is really nice lightweight ampoule. It is very hydrating and moisturizing, but also very refreshing. It has a very interesting scent, I would dare to say almost therapeutic and thus, it makes the use of this serum very pleasant and healing. Noni as plant / ingredient is anti-oxidant, so the benefits of using this ampoule should be even more important. The one thing I do not like about this ampoule is that I will finish it very quickly if I continue using it every day.
The Ordinary squalane oil – this oil is part of my stash for a long time, so it was really about time to introduce it into my routine. I didn't want to open any oil, until I emptied the Sunday Riley Juno. This oil is very light. It is not oily at all (if it makes sense of saying it like that). It is calming, nourishing, I use it also on my hair although it is not primarily its purpose.
Garden of Wisdom niacinamide – this serum reminds me of The Inkey List niacinamide by its texture and application. You only need 1-2 pumps of serum for whole face. It is light emulsion and it feels like a jelly, it is absorbed fast in the skin. My skin itches for few seconds after the application. Although by the content of niacinamide (5%), it is not as potent as other niacianamide serums I usually use (10%), it does feel kind of strong on the skin and I honestly think that it will be drying if used  long-term.
Aromatica Lively blue calming oil – I bought this oil long time ago, so honestly I forgot about it, until I rediscover it when making my stash inventory. This oil owes its blue hue, but also its calming features to azulene. It is one of the lightest oil I have tried so far and it is very watery. It feels like oil only for few seconds when you apply it on the skin. It is absorbed flawlessly and nicely without any greasy residue and it makes skin very soft, smooth and calmed. I use it also to prevent the dryness or redness after I use A313 pommade (vitamin A). I really like it so far.
What have you been choosing lately from your skincare stash?
Till next time, stay healthy and beautiful!