Hello everybody!
I hope you're all well and healthy. Stay safe and listen to your health care professionals and epidemiologists in these unfortunate moments. And stay  home (if possible)!
Whoever read my 2 previous posts knows that I'm on a no-buy. So obviously I will not be posting any time soon my new-in posts or shopping sprees as I did in the past.
However, I will start a new post series of what I opened during the month and these will also include some first impressions.
So without further ado, here are the products I opened during March.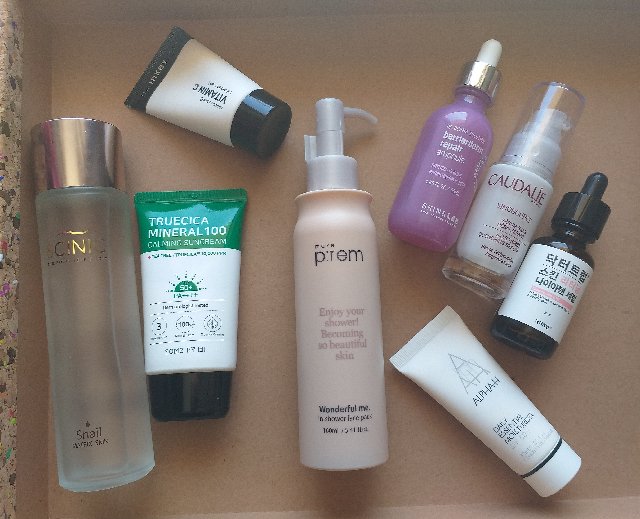 Scinic Snail Matrix skin – since I emptied my HG snail product, Cosrx 96 snail essence, I had to introduce something that contains snail mucus. This toner has a jelly texture which is of course thicker than other toners. Of course, it has some slip to it and is nicely spread. It is hydrating and calming. Before opening this toner, I have already used a decanted bottle of around 10ml which I liked and that's why I bought a full size product.
The Inkey List Vitamin C serum – I bought Timeless Vitamin C E + ferulic recently and thought of introducing it immediately to my routine, as I do not think that the texture of this TIL serum is suitable for the quick morning routines. However, due to the unfortunate conditions around the COVID-19, I started to work from home on March 16th, so I changed my mind and opened The Inkey List serum. I have already written about it in one of my Empties posts. I must admit that it is not for everyone. The percentage of ascorbic acid is pretty high (30%), so for someone who is not used to vitamin C, this could be too much and could cause some redness and burning effect. And, to my big astonishment, this is exactly what happened to me with the first application of this serum!! I had such a nice experience when using the first tube so this came out of blue for me. I thought that this was initial reaction to reintroducing the potent vitamin C serum. Unfortunately I was wrong, because I experienced the same reaction next 2 times I applied it. It sensitised my skin in such a way that my face was red like tomato and a part of my forehead was sensitive to a touch and it hurt. Obviously, this serum is no longer working for me (at least in a way I used to apply it). I should probably try to buffer it with some cream. However, it does work as a spot treatment because it healed in 2 days the pimple I had on my chin.
Caudalie Vinosource S.O.S. serum – this is one of only 2 western serums that I always come back to and will continue to do so. It is a lightweight milky serum which is deeply hydrating and soothing. The skin feels so smooth and refreshed. I use it in both of my routines. The only thing I do not like is the fact that I go really fast through it due to its thin texture.
Some by mi Truecica mineral 100 calming suncream – although I'm not all the way through my current sunscreen, Klairs Airy uv essence, which I really like, I opened this and lend it to my father who was supposed to do some gardening. Before that, I made a demonstration of how to apply it, so I tried it too. Although it is a mineral sunscreen, it does not leave a white cast, it is not difficult to massage it into the skin, it didn't leave any greasy residue. I did notice some scent to it (I think it is a tea-tree oil or something similar) but it disappeared quickly.  I like it so far, but I will see how it works under my bb cream.
Skin&Lab Barrierderm Repair ampoule – I bought this almost a year ago and honestly forgot about it. This was one of my impulsive shopping, without reading ingredients or reviews. I was probably attracted by the barrier repair part from its name and some promo price on Jolse. When you open it, you can feel the light scent of alcohol, nothing too strong, but still present. It has a watery texture and light pink hue to it, it is non-sticky. It sinked in fast. My first impression is that I have no great expectations now. I think it will be a mediocre ampoule.
Make P:rem Wonderful me mask in-shower face pack – although I bought this for the upcoming summer season, I still opened it to try how it works. I have to see if I applied it in proper way since I put it on while my face was wet from shower and in a thicker layer (the packaging says that it should be put in a thin layer). I washed it off in shower and I didn't put any skincare product for more than hour and still my skin didn't feel tight or dry, so I guess it works well.
Alpha-H Daily moisturizer spf50 – Although I have 2 sunscreens in use (Klairs and Some by mi), I opened the 3rd one because I'm a bit concerned about the future shipments from Korea with this unfortunate pandemic of Covid-19 (almost all Ebay sellers and online stores from South Korea and Japan do not ship to my country for the moment). The first use was a pleasant one, no white cast, it sinked in fast without greasiness left. However, one ingredient caught my attention and I need to research a bit, as it seems to me that it might be a very bad one.
Sidmool Dr Troub niaten serum – this is my second bottle. I like its watery, thin texture since I use the niacinamide as a first step of my evening routine so it fits perfectly. It brightens the skin, evens and smoothes skin texture. I didn't experience any side effect. In the future, I will rotate this serum with Tiam B3 Vita source.
Till next time, stay healthy and beautiful!