Hello everybody!
After a really long absence from my blog, it's time again for another Empties post. As I have already mentioned few times, I'm trying to decrease my stash and trying to empty as much products as I can, without troubling my skin. However, this is becoming extremely difficult since every now and then I have some shopping blackouts which result in some smaller or bigger hauls (again).  As, I said it's been a while since I posted something, but I did empty quite a lot products.
So, if you want to read my post, take some snack or even a sandwich, since this might take a while 😀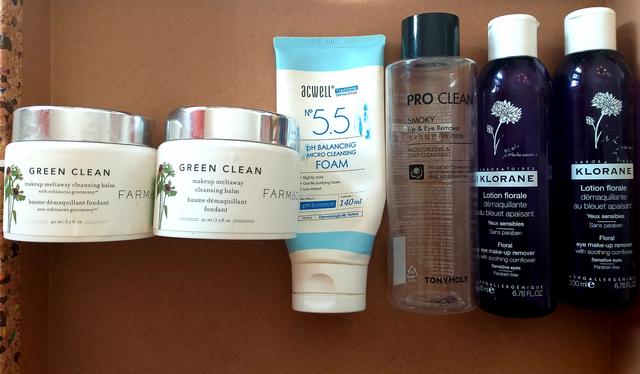 Farmacy Green clean cleansing balm – as you can see, I have 2 jars and the 3rd one is already in use, so you can guess that I love it. It is gentle, but very effective. It removes all make up, dirt, grime. It looks like vax, but it is like the finest butter once you start massaging the face. You need only small amount to cleanse the entire face. The price point could be an issue, since it does cost around 30 GBP for 90 ml, but I will keep buying it.
Acwell 5.5 micro cleanser – I was using this as a 2nd cleanser or sometimes as a morning cleanser. It is a creamy cleanser which doesn't foam a lot (it almost doesn't foam at all). It is gentle and effective and leaves the skin clean and soft. I didn't feel any dryness or tightening.  Little goes a long way and this tube lasted for 8 months!! I would probably buy again if I wasn't so curious when it comes to the cleansers.
Tonymoly Pro clean smoky eye and lip make up remover – this is my favorite eye makeup remover which I alternate with the other one from the photo, Klorane Lotion florale démaquillant. I have already written about those 2 products. Both very effective in removing eye makeup and both packed in big bottles. Will repurchase!!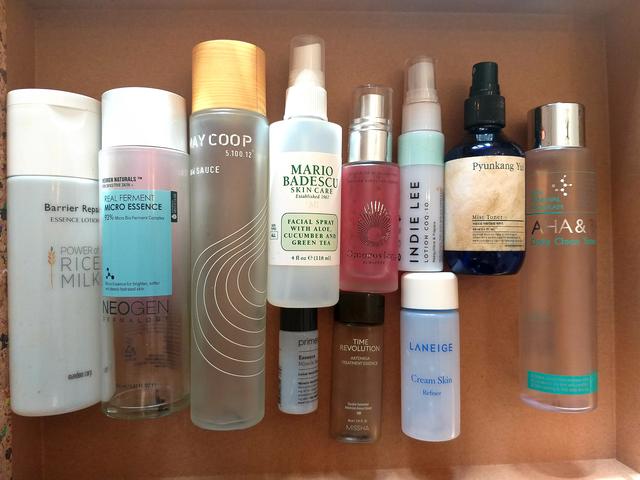 Mandom barrier repair essence lotion – this is wonderful lotion made with rice milk. It hydrates and nourishes the skin at the same time, it softness it, calms down any redness. I would probably buy again if I hadn't tried I'm from rice toner.
Neogen Real ferment micro essence – I'm in love with this beauty! I was watching it for so long, that I was really afraid that it would be a disappointment once I tried and oh boy, I was wrong. It is the best essence I tried; it tops every single one of them. I just wish I could have a bath in it. It leaves the skin so hydrated, soft, shinny and still does what other first essences do and that is preparing the skin for next steps and providing better absorption of the next layers. My skin purrs when in contact with this essence.  Will continue buying (I already have 2 bottles in my stash).
May Coop Raw Sauce – my HG product. It refreshes, hydrates, nourishes. It can be used with other toners, but can also easily replace few steps of your routine. It is such a great product! Will repurchase for sure.
Mario Badescu Facial spray with aloe, cucumber and green tea – I wasn't using this as a mist, but as a toner, since the sprayer is to strong for my face. I used to refresh the skin and for those purposes is ok. I find this to be a basic hydration and that's about it. I wasn't impressed by this spray. I won't repurchase.
Omorovicza Queen of Hungary mist –  I got this in one of Lookfantastic beauty boxes (or maybe in Advent calendar). Unlike Mario Badescu, I give big thumbs up for the sprayer which produces the finest mist. I also think that the glass bottle is really classy. However, I hate the scent (I would say it's fit for older ladies). It gives an instant refreshment, but honestly I do not see why it is so expensive. I won't repurchase!
Indie Lee CoQ10 toner – this is the only western toner that can stand aside with the Asian toners. It provides a perfect ratio of hydration and moisture. It nourishes the skin and makes it glowy. The only downside of this toner is its price. However, I have already repurchased a travel size to have it for a treat for my skin.
Pyunkang Yul mist toner – I'm sure you ha0ve already seen this toner in my posts. This is one of my favorite hydrating toners. Of course, I have already a back up bottle in my stash.
Mizon AHA/BHA toner – you have already seen this toner in my Empties. I'm using it under all acid treatments and it gives them such a nice boost.
Missha artemisia first essence – I used this essence rather quickly due to its size. However, I must say I'm not that crazy about it. It is good, it does what it is supposed to do and that's preparing the skin for next steps. But what I didn't like is that I felt some stickiness from time to time, when I applied more than 1 layer. Otherwise, it's good. I don't think I will repurchase.
Missha Time Revolution first essence (not in the photo) – I tried this at the beginning of my Kbeauty adventure (when I had no clue about anything) and I didn't like it. I gave it a second chance now and I didn't regret at all since this is really such a nice first essence. It is hydrating, soothing and really effective in making my skin soft and facilitating the absorption of the next steps.  I will repurchase!
Primer Miracle Seed essence – I read so many raving reviews about this essence that I had to try it. However, I only used it 3-4 times before I managed to spill more that half of this small bottle. I can say that  it could have some potential, so I bought another one to try it again.
Laneige cream skin refiner – lovely milky lotion that nourishes nicely the skin. It sinks it fast without any tackiness. Just like May Coop raw sauce, it can replace few watery steps of your routine (I prefer May Coop for summer, and Laneige for colder days). Already repurchased.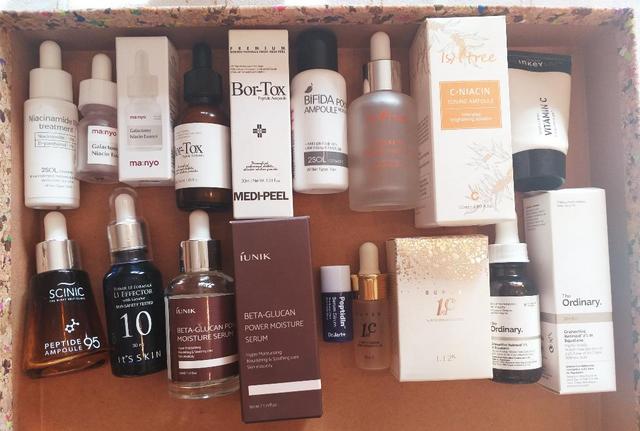 2sol niacinamide – this was the first niacinamide I tried and I loved it. It contains 10% niacinamide and 1% panthenol. I used it in a serum step and now when I think of it, I could have obtained even better result if I had been using it as a 1st step (like I do now with all my niacinamide serums). This serum is really watery and basically it is perfect choice for the 1st step. It doesn't cause any redness (what I experienced with some other similar products), it sinks in fast and brightens, clears and evens the skin. I will repurchase!
Manyo Galactomy Niacin serum – I have been trying to use the niacinamide regularly in my morning routine, so I have emptied few different ones lately. At first, I wasn't so happy with this serum, because I felt like it was leaving a greasy, sticky residue. However, after few uses, this stickiness disappeared. The skin is smooth, brightened, clear. It doesn't sting or provoke any redness. I will buy again, but not right away.
Medi-Peel Bortox – this is one of my favorite peptide serums. It is white and milky ampoule which sinks in fast and dries completely. It nourishes the skin, it has a tightening and plumping effect on my skin and it made my forehead wrinkle less deep, so I would say it does work. I do not expect any serum to erase my wrinkles, but this is close. I will repurchase.
2sol Bifida power ampoule – Before I started to explore the peptides and niacinamide serums, bifida was the ingredient of the choice for skin brightening and anti-age. It brightens and plumps the skin. It has watery texture and sinks fast. I cannot tell much more about some other effects since I wasn't using it regularly.
Isntree C-niacin toning ampoule – this is a great choice for those who like to use the niacinamide and C vitamin in one single product. It is a nice brightening ampoule. Since I use this type of product as a first step in my morning routine, its jelly texture might not be a perfect choice for my routine (I prefer the watery textures from 2sol or Sidmool niaten that I currently use). However, it is still a nice product.
The Inkey List vitamin C – this was the first product I tried from The Inkey List range and I loved it. Although it is a serum, it has a texture of a moisturizer. When it comes to the ingredients, its inkey list is rather simple: 3 types of silicones and high percentage of vitamin C. Since I like to use the vitamin C serums as a first step, I was applying it as a first step despite its silicone texture (I have to make a longer pause before the next step). When applied, I felt stinging, but it wasn't very unpleasant and it lasted few seconds. I have mentioned few times that my skin adores the vitamin C serums and once again, this one wasn't any exception. My skin was brightened, evened. This serum also helped a pimple scar to heal faster. I have already repurchased.
Scinic peptide ampoule 95 – at first, I wasn't happy with this ampoule since it tends to leave a sticky residue and I didn't feel that this provided any benefit for my skin. However, as I was coming close to the bottom of the bottle, I felt like it was tightening and plumping nicely my skin. Maybe I would have felt its full potential if I had gone through another bottle. I will think of repurchasing.
It's Skin Power 10 formula LI effector – this is one of my HG serums which I always have in my stash. It is my go-to serum together with Cosrx snail mucin ampoule for the skin accidents (if my skin reacts to some ingredients or if I overdo with some treatments, etc). I have already repurchased.
Iunik Beta-glucan Power Moisture serum – I wanted to try this as I had read that it was a good replacement for the hyaluronic acid serums.  It does provide the nice hydration, but it is sticky and I do not like that. Actually it reminds me of a snail muccin and it felt like I applied something that contains snail mucin (which I like in a skincare).
Liz K first C serum – after reading so many raving reviews for this, I thought I would just love this serum, especially since my skin enjoys a good vitamin C serum. However, I had an impression that this serum wasn't doing anything for my skin, not even that immediate brightening effect that I see from every vitamin C serum. Luckily, this serum is packed in a miniature bottle so I went through it rather quickly. I will not repurchase.
The Ordinary Granactive retinoid in squalane – I had to throw this bottle since it was open for too long. I was using at beginning of this year till end of March and then I stopped using it. I cannot tell a lot about this serum since I wasn't using it regularly and enough to see the results (it does take longer for a retinol to show the results).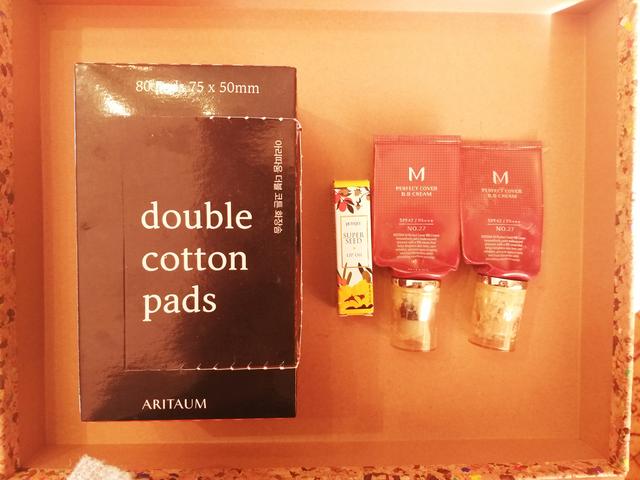 Aritaum cotton pads – from time to time, I buy a box of Korean pads, because the difference between the western and Asian ones is huge. Korean pads do not waste a lot of product and yet they spread better the product over the face. However, they are still much more expensive than our regular ones, so I treat myself maybe twice a year.
Petitfee Superseed lip oil – I didn't finish this small bottle. I liked it maybe for few first applications, but then I started to feel some dryness (which is usually an issue for me). The only thing I liked about this oil is the scent and the taste. I won't repurchase it obviously.
Missha Perfect cover bb cream – my shade is #27. You can also see this bb cream often in my New-in posts since I have been using this bb cream for years now.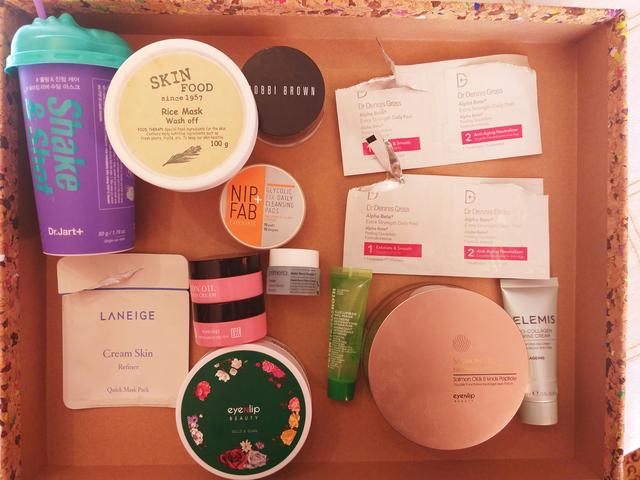 Dr Jart Shake & shot rubber mask (soothing)  – If you want to add some fun to your skincare routine, try the rubber masks!! Mixing the ingredients, shaking them, trying to apply the mask evenly on your face, looking funny with the masks dripping from your face, it is really a fun. I must however admit that this Dr Jart rubber mask was a lot less messy from what I expected. If applied evenly, after it dried, you can remove it in one piece, like a sheet mask. The skin is nourished and glowy, calmed.  However, it's a bit pricey for a 1-shot product, but I will buy again.
Skinfood Rice mask – nice and gentle wash off mask. It brightens the skin, makes it soft and plump. The grains are big, but not harsh and provide gentle exfoliation. The mask smells nice and looks like a nice rice pudding. I will repurchase once I decrease the number of masks I opened.
Bobbi Brown Extra repair eye cream – so many swear by this eye cream, so do I. It is my HG eye cream. It delivers definetely! It is very thick, nourishing and it really made my crow feet wrinkles look almost invisible. I have already repurchased!!
Dr Dennis Gross exfoliating pads extra strenght – I got those 2 samples with my purchase in Sephora. I was a bit scared by that extra strenght remark. I thought it could possibly burn my skin. And that is so not true. These pads are actually strong when you see the result: brightened and extremelly soft skin obtained in few swiping movements, but without burning, without itching, without any nasty thing that usually comes along when using acids. I was blown away with these pads at first application. I have already ordered a 5-pcs packaging. O yeah, I forgot to mention that these are very expensive, but really expensive and that's why I didn't buy bigger packaging. But they are worth every penny!!
Peter Thomas Roth cucumber mask – I'm so happy I have only luxury sample size of this mask (from a 5-pieces set of PTR masks). I was using this usually after the beach days this summer and didn't see any benefit of it at all (at least I didn't see more benefit from what I could have gotten from a simple aloe vera gel). No matter how big quantity I put, my skin "drunk" it up fast leaving the surface still "thursty". It did calm the skin, but that was all. I will definetely not repurchase it.
Primera Alpine berry watery cream – this one goes to my list for futur full size buy (though this won't be any time soon, since I have few unopened moisturizers). This cream provides a perfect balance of hydration and moisture, it is not oily and yet it gives a nice glow to the skin. It is spread easily and it sinks in fast. I was using this in the night routine as last step (when I was using this moisturizer, I wasn't putting the sleeping mask) and in the morning, my skin was soft and velvety.
Eyenlip salmon oil nutrition cream – When shopping on Beautynetkorea, I put often this 15ml cream in my shopping basket. I use it mostly during the colder period of year, since it is a great occlusive and delivers fine nutrition,  but still it is not greasy. I do not use in summer. I will repurchase.
Eyenlip eye patches – Salmon oil nutriton (packed in a fancy rose-gold packaging) and Gold & snail (packed in regular jar). I like to use the eye patches, but none of these will provide a longterm result. However, they do hydrate nicely, make the eye area look rested and fresh. I liked both of these, with the smsll complaint for Gold & snail which are really soaked and move a lot if you do not lay down. I like exploring the eye patches and usually always buy a kind that I haven't tried before.
Elemis Pro-collagen marine cream – again a really great moisturizer which delivers a nice balance of moisture and nutrition. The skin texture  is so soft and even. I cannot speak about the anti-aging effect, since this was a luxury sample (15ml) obtained in one of Lookfantastic beauty boxes and I haven'use it enough to verify the claims. However, I got a full size product in Asos advent calendar, so I will be able to test more properly.
And of course, I emptied my share of body care, hair care and hand care products.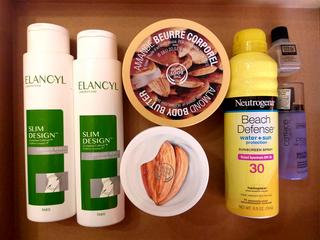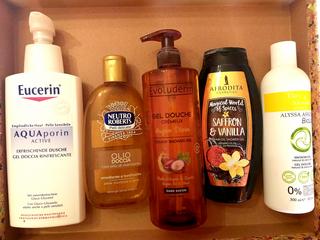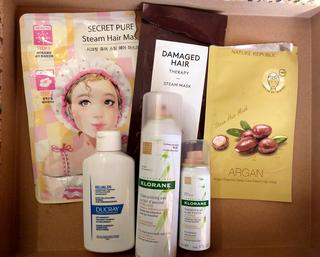 Till next time, stay healthy and beautiful!